Image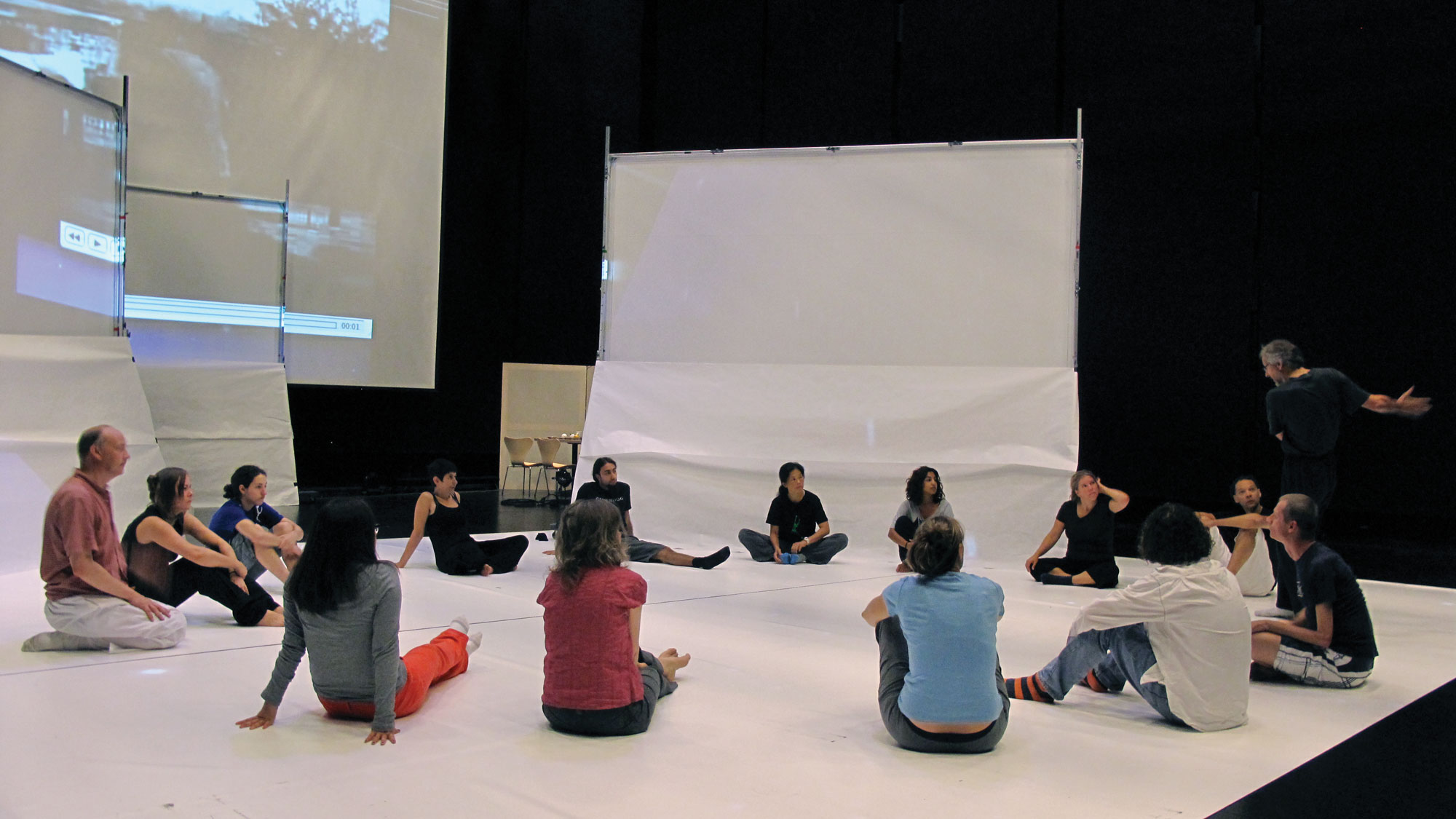 LIVE.MEDIA + PERFORMANCE.LAB
August 16–22, 2010
Studio 1—Goodman
Announcing our first summer lab for interactive media in performance! Directed by Johannes Birringer and Mark Coniglio, the workshop offers intensive training and possibilities for experimentation with mixed reality and real time architectures, programmable environments, interactive design and the integration of time-based media into live performance and installation.
Workshop blog: http://empaclivemediaperformancelab.blogspot.com/
The activities of the lab are open to visitors, and information about the proceedings and the research process will be available soon.
The workshop addresses emerging and professional art practitioners, scientists, researchers, and students from different backgrounds in performance and new media committed to sharing their interest in developing a deeper understanding of composing work focused on real time, interactive or time-based experiences and multidisciplinary collaborative processes (video, sound processing, projection design, lighting, choreography and directing).
Participants will be in residence for the duration of the lab and offered our exceptional facilities for investigating performance and design techniques that will develop skills and inspire new ideas for working in mixed realities and interlinked physical/virtual or distributed aesthetics. The workshop will include examples and references to international stage works, choreographic systems, installations and site-specific works, as well as hands-on experimentation in full resolution with interactive systems.
Methodologies for the laboratory are conceived by Theater director and media artist Johannes Birringer, founder of the annual Interaktionslabor and professor of performance technologies at Brunel University (London), and Mark Coniglio, artistic co-director of Troika Ranch and creator of the Isadora software. Both artists are widely recognized for their pioneering work in the international performance and media network. Interaktionslabor was last offered on tour in Belo Horizonte, Brasil (2008), and Birringer's and Coniglio's work has been featured in numerous festivals and exhibitions around the world.
SKILL REQUIREMENTS
Intermediate/advanced experience in performing with audio/visual technologies and/or programming. Previous experience with Isadora or Max/MSP recommended. This workshop is geared for those already working with technology but wishing to improve their skills and get new perspectives.
WHAT TO BRING
It is recommended that participants bring rehearsal clothing and their own laptop and other tools (camera, recorder, etc.). Digital equipment will also be available.
WORKSHOP FEE
$500
HOUSING
Participants in the workshop will be able to choose single dormitory style housing near the Rensselaer campus for $50/ night, or may organize their own housing in Troy.
SCHEDULE
The lab is intensive and will run from 10AM - 10PM daily. Registration will be held Monday morning, August 16, and work that day will start at noon. Participants will wrap up their work Sunday morning, August 22, and depart Sunday afternoon.
Dates + Tickets
Dance/Theater
Music/Sound
Workshop
LIVE.MEDIA + PERFORMANCE.LAB
------------ thru ------------
Discipline
Contemporary Performance
Tools and Technology
Season