Image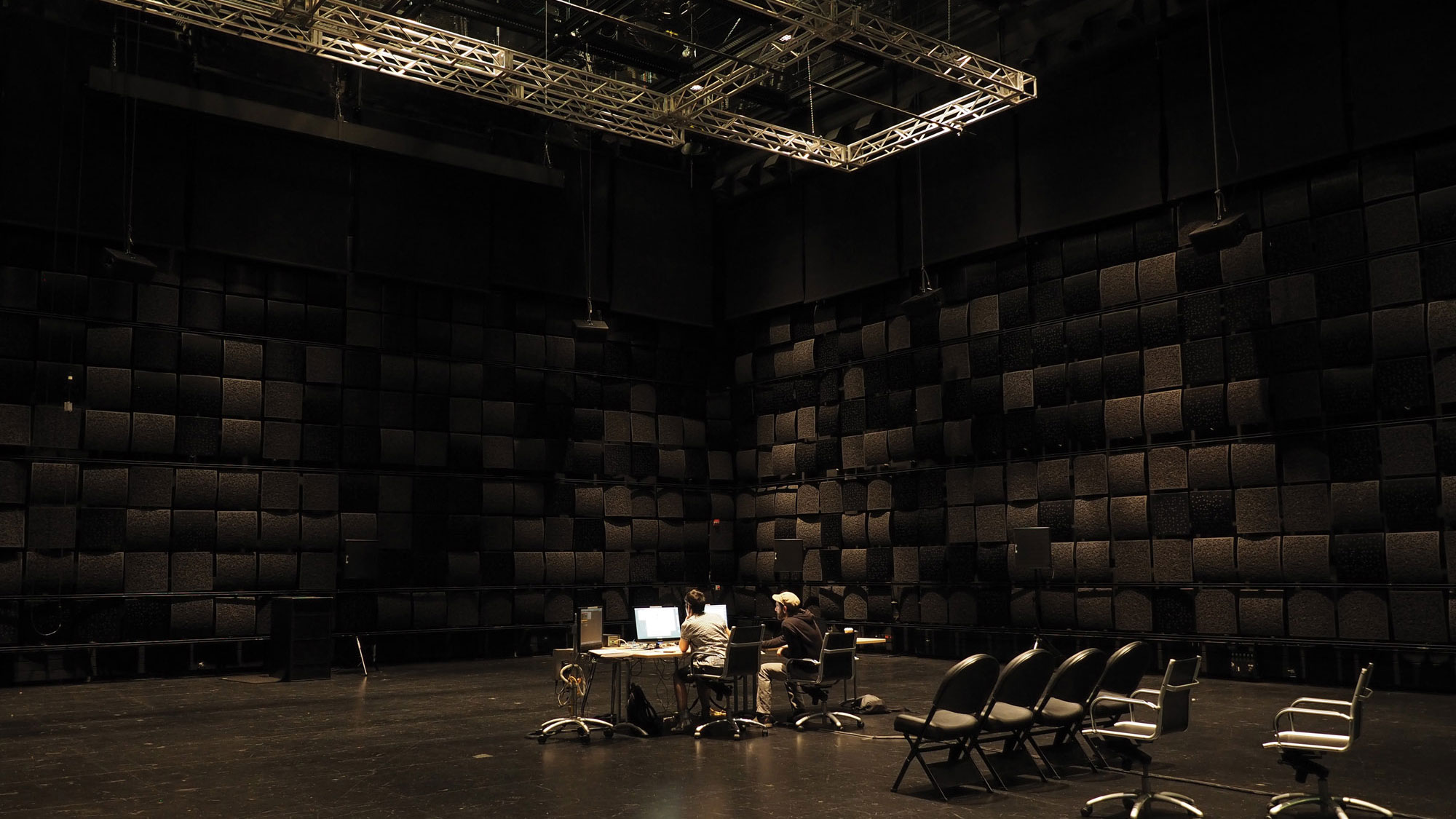 Spatial Audio Summer Workshop
A five-day workshop using Wave Field Synthesis and High-Order Ambisonics
July 10–14, 2017
Multiple Venues
A five-day intensive workshop on the technical, theoretical, and practical issues surrounding spatial audio platforms, particularly focused on Wave Field Synthesis and High-Order Ambisonics. Hosted by EMPAC at Rensselaer along with IRCAM (the Paris-based Institut de Recherche et Coordination Acoustique/Musique), and HUSEAC (Harvard University Studio for Electroacoustic Composition), this workshop will give participants the opportunity to experience large-scale, complex audio setups in pristine acoustic environments.
Markus Noisternig (IRCAM) and professor Hans Tutschku (Harvard) will join EMPAC's audio staff in dissecting the technical and artistic concerns in the creation and presentation of high-count multi-channel audio projection. Each day will consist of seminar-style workshops and lectures, along with time for hands-on experience with the over 700 channels of audio, including EMPAC's new Wave Field Synthesis array.
WAVE FIELD SYNTHESIS
EMPAC's Wave Field Synthesis array was constructed in 2016 and consists of 558 independently controllable speakers spread across 18 portable and reconfigurable modules.
VENUES
The workshop will take place throughout EMPAC, granting participants access to the sophisticated audio systems in place. In addition to smaller studio spaces, five venues will be outfitted with high-channel-count audio arrays, including:
1,200-seat Concert Hall
with 248-channel Wave Field Synthesis Array and 60-channel Ambisonic array.
Large absorptive studio
(66'x51'x33'; 315m2, 12m high) with 124-channel Wave Field Synthesis Array and 20-channel Ambisonic array.
Large diffusive studio
(44'x55'x18'; 230m2, 9m high) with 20-channel Ambisonic array.
Theater stage
(40'x80'x60'; 300m2, 20m high) with 186-channel Wave Field Synthesis Array and 20-channel Ambisonic array.
PREREQUISITES
Participants should be composers, audio engineers, or programmers with interest in multi-channel composition. Experience with MAX is recommended.
PERFORMANCES
There will be two open-to-the-public performances during the week on Mon + Thurs evenings. More information will be available later this spring on the specifics.
WHAT TO BRING
Attendees to the workshop should bring a computer and applications they are comfortable using for creating
Dongles to connect laptop to Ethernet cable
Audio content—uncompressed audio files or other playback/sound generation systems
Where + When
Held across EMPAC's venues, the workshop will run from 10AM–6PM each day with lectures in the mornings and scheduled time later in the evenings in each venue. Performances will be held Wednesday and Thursday evenings. Coffee, lunch, and parking included for full workshop attendees only.
Lodging
Lodging accommodations are available on campus for those traveling to attend. Checkin/out will be open on the 9th and 15th for those who want to arrive the day before / leave morning after workshops.
Cost and Registration
$150 Includes: lectures ONLY.
$590 Includes: lectures, hands-on access to various audio systems, performances, and coffee, lunch, snacks each day.
$800 Includes: workshop registration as well as single room lodging for six nights on the Rensselaer campus.
June 5, 2017—Full registration cost due
Attendance limited to 25 participants
ABOUT EMPAC
Dates + Tickets
Spatial Audio Summer Workshop
A five-day workshop using Wave Field Synthesis and High-Order Ambisonics
------------ thru ------------