Image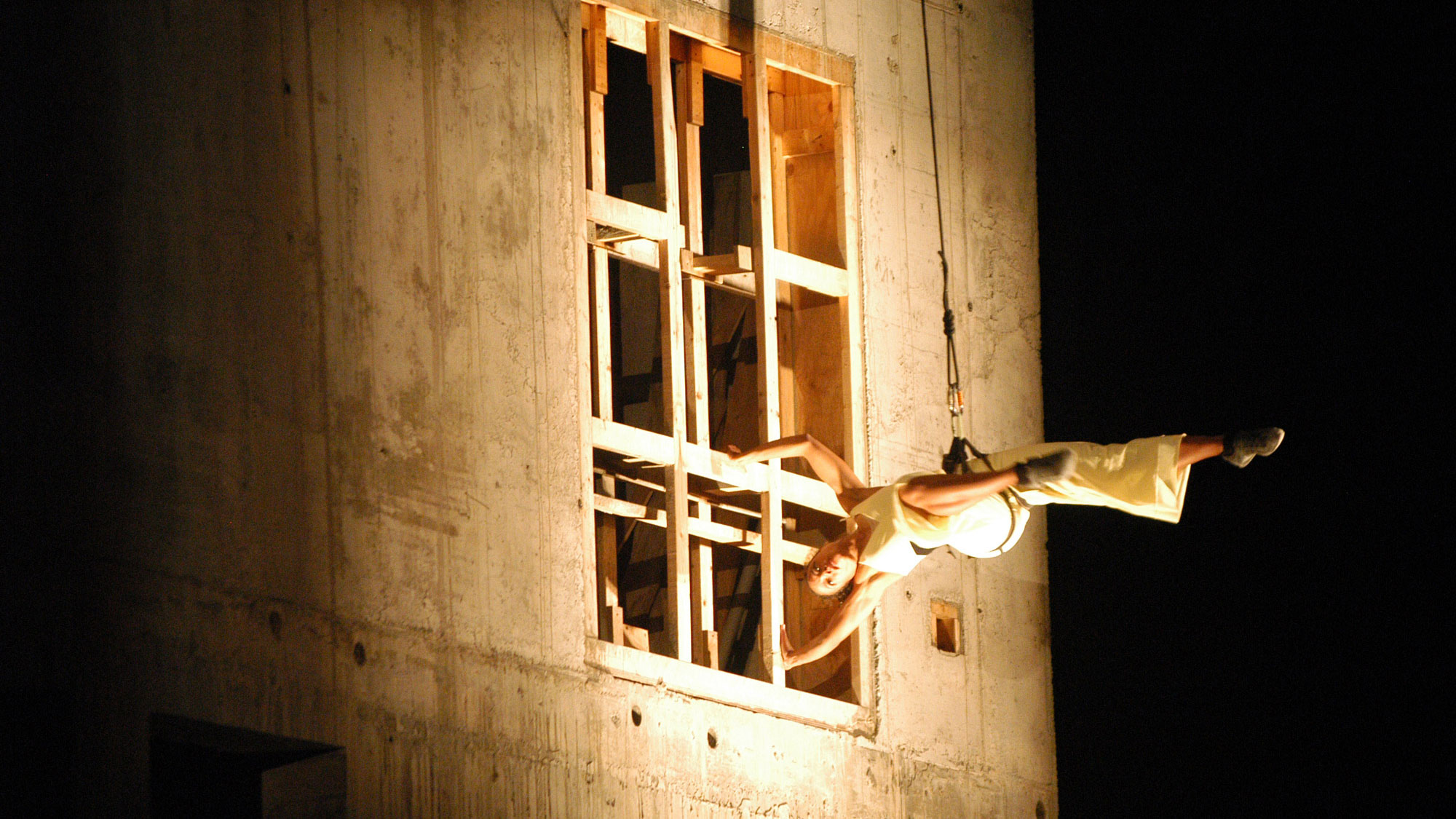 EMPAC 360
On Site + Sound
Thursday, September 8, 2005 at 6:30PM
EMPAC — Troy, NY, USA
Marking the midpoint between groundbreaking and the opening of its new building, EMPAC presented this public celebration by inviting the audience to walk the periphery of the building site as the sun set and to experience performances—featuring aerial dance, music, live visuals, and pyrotechnics—happening on all sides. San Francisco-based Flyaway Productions created an aerial site-specific dance work that ranged over the walls and empty spaces along the periphery of the building site. Ethel, the New York City-based string quartet known for stretching the limits of convention, played amplified from several locations on the site. Long Island-based visual artist Benton C. Bainbridge and Troy composer, audio artist, and sound designer Stephan Moore collaborated in a real-time creation of projected video and sound. A pyrotechnics display entitled Dialectic of Duration and designed by renowned French pyrotechnics designer Pierre-Alain Hubert, placed fire and pyrotechnics within the volume of the future building, delineating the spaces with ephemeral light. 
LIVE VISUALS - PYROTECHNICS - AERIAL DANCE - MUSIC
An extraordinary guided walking tour circumnavigating the edges of the EMPAC site while performances dazzle along the way. Throw out your high heels and dress loafers, don your walking shoes, and join us for an evening you will not soon forget.
EMPAC 360: On Site + Sound performances include:
Fireworks by Grucci
Pierre's design will be executed by the Grucci family of Long Island. "Fireworks by Grucci is one of the nation's premier pyrotechnics firms," said Julie Heckman, executive director of the American Pyrotechnics Association, an industry trade group. The list of events lit up by the company is impressive: six consecutive presidential inaugurations beginning with Ronald Reagan; the Statue of Liberty Centennial in 1986; the Lake Placid, Los Angeles, and Salt Lake City Olympic Games; and World's Fairs in Knoxville, Tennessee, New Orleans, Los Angeles, and Taejon, Korea, to name a few.
For over two decades Benton-C Bainbridge has pursued moviemaking as a realtime, performable art form, playing live audiovisuals in a multitude of group and solo contexts. Using custom digital, analog and optical systems, Benton-C seeks to capture music's human abstraction in moving images. Benton-C has performed, screened, streamed, broadcast and installed video worldwide over the wires and airwaves and in museums, galleries, stadiums, clubs, colleges and festivals. Currently, Benton-C Bainbridge is designing video for RGB LED displays and live spectacles on stage and TV with FUEVOZ, a company he co-founded with V Owen Bush. (see also: The Poool, NNeng, 77 Hz, Valued Cu$tomer)
Stephan Moore is a composer, audio artist, and sound designer living in Troy, New York, and Manhattan. He has graduated from Rensselaer Polytechnic Institute, Western Michigan University, and Interlochen Arts Academy. His creative work centers around the collection and use of real-world sound, the creation and perception of sonic environments, and technological manifestations of improvisation and interactivity. Recent performances and installation artworks make use of a sixteen-channel array of his hand-built hemispherical speakers. He performs regularly as half of the electronic duo Evidence, and with an assortment of musicians, live-video artists, and dancers. He has created custom music software for a number of composers and artists, and has taught courses in sound art and electronic music at Maryland Institute College of Art, Peabody Conservatory, Massachusetts College of Art, Rensselaer Polytechnic Institute, and Simon's Rock College of Bard. He is currently the Sound Supervisor of the Merce Cunningham Dance Company.
Flyaway Productions— Jo Kreiter, Artistic Director — Flyaway's performances integrate risk, spectacle and social potency. Founded in 1996, the company creates original works which integrate aerial skills, modern dance, and a theatrical sensibility. The company performs in both traditional and site-specific venues, including theaters, outdoor stages, rooftops, fire escapes, industrial cranes, on steel poles, and recently on a three-story, block-long mural wall. Significant collaborators include composers Pamela Z, Jewlia Eisenberg, Carla Kihlstedt, and rigger Michael Ehrlich.
Flyaway has performed in the Boston Dance Umbrella's International Aerial Festival, San Francisco's Skydancers Festival, the Aerial Dance Festival in Colorado; at Duke University in Durham, North Carolina; the Sushi Performance Space in San Diego; and in San Francisco at Brava Theater Center, Theater Artaud, and the Yerba Buena Center for the Arts.
Described by the New York Times as "a wonder of equilibrium," Artistic Director Jo Kreiter is a San Francisco-based dancer/choreographer with a background in political science. Through dance she is seeking to engage imagination, physical innovation and the political conflicts we live within. Kreiter is a recipient of a 2003 Rockefeller/ MAP grant, a 2003 Public Art Commission form the SF Arts Commission, a 2002 Wattis Residency at Yerba Buena Center for the Arts, a 2001 CA Dancemakers Fellowship, a 2000 Gerbode Foundation Award for Choreography, and a San Francisco Bay Guardian 2000 GOLDIE Award.
Craftsman, performance artist of the sky and a dealer of dreams, Pierre-Alain Hubert, from Marseille, France is considered to be one of the great pyrotechnic artists of our time. For over 35 years he has enthralled the public the world over - from Athens to Zimbabwe - with his spectacular creations.
In his own words his displays are "an opera of light where fireworks play a part", but not the only part. Trained as an architect, and famed for his ability to interact and inspire his surroundings, whether the Palace of Versailles, Ceausescu's Palace in Bucharest, or along the Great Wall of China his creations are never fireworks only. "Fireworks are but one possibility." Music, fire and especially movement all play a full part in his displays. Hubert believes that fireworks without motion are boring. Water skiers toting flares, helicopters bursting with fireworks, or 1000 cyclists choreographed as 2000 wheels in motion to symbolize China's bid for the Olympic games, nothing is too spectacular.
Even the audience becomes part of the show as he ignites their heart and soul with the beauty of his paintings in the sky. "Fireworks with a soul" says Pierre-Alain Hubert, "A painting will speak to you again, I only get one shot at making an impression on my audience, I deal with the instant."
Ethel has quickly emerged as a powerful musical voice in New York City's ever-evolving concert scene. This all-star foursome has stretched itself far past the limits of convention, genre and style to embrace a music that arises from the context of our time. Andante.com calls the group a "mighty amplified force" that has "style, breadth, power, chops and rock 'n' roll spirit," and The New York Times hails Ethel as "extraordinarily skilled, passionate musicians."
Since the group's appearance on the scene in 1998, Ethel has brought to its music an exciting, beautiful and rare combination of tastes and talents that has developed from each member's unique experiences in the music world. Members of Ethel have performed and/or recorded with Bang On A Can, the Chamber Music Society of Lincoln Center, the Orpheus Chamber Orchestra, the New York Chamber Symphony, the Steve Reich Ensemble and with Sheryl Crow, Roger Daltrey, Reba McEntire and Yo-Yo Ma, among many others.
Ethel's penchant for improvisation and theater is instrumental to its group philosophy and aesthetic. These "serious" musicians in fact consider "show-biz" as part of their artistic arsenal. One of the band's most distinctive programming options uses improvisation to weave composed pieces together, creating a seamless, flowing concert experience. With Ethel's irreverence and panache, listeners are enveloped by the sounds of amplified strings as they are taken on an intense muscular ride of arena-rock proportions.
Dates + Tickets
EMPAC 360
On Site + Sound
Season