2017
EMPAC Commissions in the World
EMPAC Commissions in the World
SPRING 2017
The commissioning of new artworks has been central to the EMPAC program since even before the center opened in 2008. Much of the work presented here is the product of relationships forged between our curatorial team and an international community of artists, researchers, theorists, and technological innovators. EMPAC commissions are born by imagining what might be possible when a particular artistic vision meets the unique infrastructure and technical expertise at EMPAC.
While many EMPAC-commissioned productions receive their world premiere here in the venues where they were developed, others travel with the artist or researcher to other institutions, where the ideas continue to evolve. In this way, EMPAC supports new projects during various stages of inception, development, and completion. Many of the events we present each season are work-in-progress previews of productions somewhere along this trajectory. After completion, EMPAC commissions continue to travel with the artist, either as a touring performance, an audio recording, a book, a film, or various other media. Every season, this commissioning process births new work into the international art world. The following are examples of different courses these projects have taken.
Lucy Raven's Tales of Love and Fear
INSTALLATION OF TALES OF LOVE AND FEAR, 2015, STEREOSCOPIC PHOTOGRAPH, CUSTOM-BUILT PROJECTION RIG, 5.1 SOUND, 40 MINUTES AT THE PARK AVENUE ARMORY VETERAN'S ROOM, NEW YORK, OCTOBER, 2016. PHOTO: PAULA LOBO.
Lucy Raven's Tales of Love and Fear is a cinema built for a single stereoscopic image, which is split by two projectors—on a rig custom-built by EMPAC engineers—and slowly reconfigured into its full 3D form over the course of the piece's duration. Drawing on her research into 3D film technologies, the bas-relief architecture of ancient India, and cultural perceptions of spatial depth, Raven developed the work in residence between 2013 and the 2015 premiere in the EMPAC Concert Hall. In the past year, the piece has traveled to Manhattan's Park Avenue Armory and Vancouver's Western Front, two very different interior architectures for the piece to be projected upon.
Wave Field Synthesis at Montreal's AKOUSMA Festival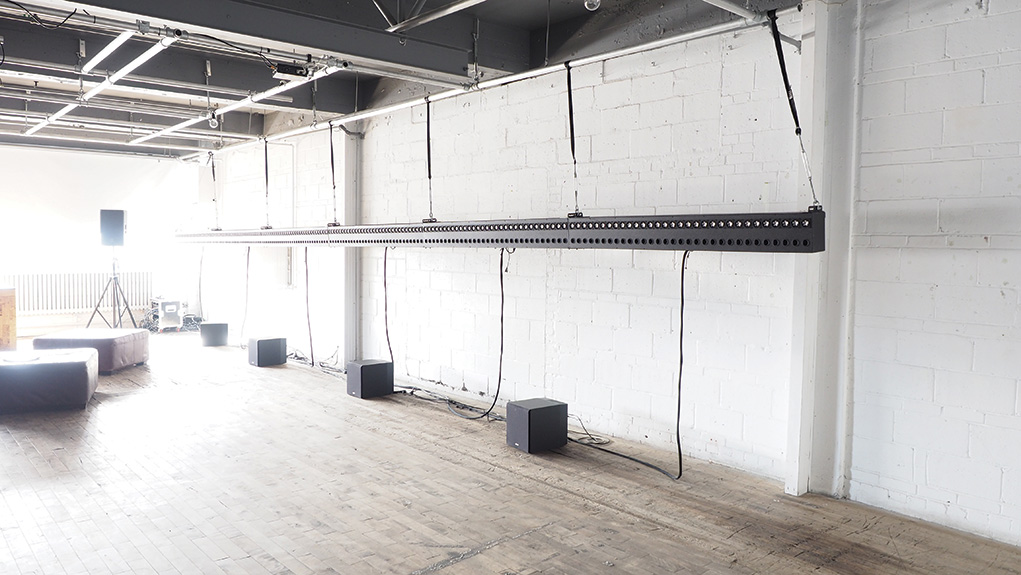 WAVE FIELD SYNTHESIS SYSTEM IN MONTREAL, 2016. PHOTO: JEFF SVATEK
EMPAC's wave field synthesis audio system is a 496-speaker array capable of creating an immersive, "holophonic," 3D sound environment. One of the most extensive and precise systems of its kind in the world, EMPAC's array was constructed by our audio engineers in 2016 as a modular system that can be set up in different configurations. Last fall, the EMPAC audio team and music curator Argeo Ascani brought the system to Montreal's AKOUSMA Festival, a premier international event for experimental electronic music. Over the course of the week, the team ran workshops for composers who are new to the technology and established relationships with some who will be commissioned to compose new works specifically for this system.
Lars Jan's Holoscenes
HOLOSCENES IN ABU DHABI, 2016. PHOTO: LARS JAN
A co-commission with the Yerba Buena Center for the Arts and the John and Mable Ringling Museum of Art, Lars Jan's Holoscenes was developed at EMPAC in 2014 and has since toured all over the world. A performance inspired by the imminent threat of climate change, Holoscenes stages a number of mundane scenarios—shaving, washing dishes, flying a kite—within a 3,500-gallon aquarium that rapidly floods and drains around the performer. This extensive engineering feat was accomplished at EMPAC and rendered mobile enough for the project to travel to shows in Toronto, Sarasota, and Abu Dhabi, as well as major festivals such as Art Basel Miami and London's Burning.