Image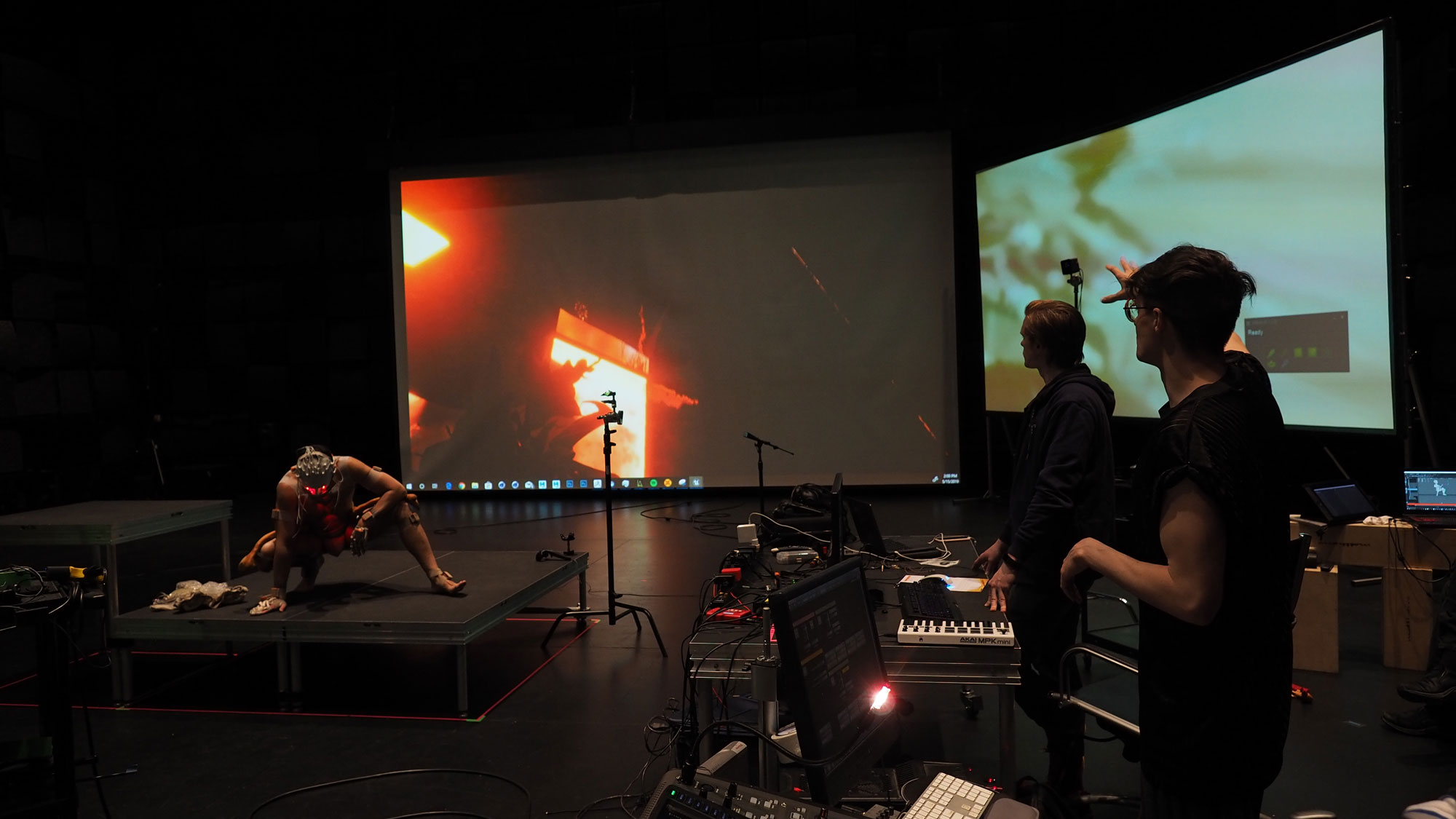 2019
Artists in Residence
Artists in Residence
Summer 2019
EMPAC's curatorial program commissions and develops new works year around, many of which are premiered here during the Spring and Fall seasons that coincide with Rensselaer's academic calendar. While no performances are presented to the public during summer break (with the exception of the Spatial Audio Summer Seminar's public events), the production venues and EMPAC staff remain busy with artist residencies. This summer, a diverse lineup of international artists will be working on a range of new productions, many of which will find their premiere here in the coming seasons.
Ephraim Asili
Hudson Valley filmmaker Ephraim Asili will return to EMPAC this summer to continue production on his EMPAC-commissioned feature film The Inheritance. The Super 16mm project weaves together the fictional story of young African American "Walt" with histories of the West Philadelphia collective MOVE, Bethune Cookman College, the Black Arts Movement, and dramatizations of the life of the artist when he was a member of a Black Marxist Collective. Asili and his ensemble cast will be in residence in Goodman Studio 1 during the summer to shoot many of the film's scenes in a custom built film set. Alongside his cast, the film features cameos by Ursula Rucker, Debbie Africa, Mike Africa Sr., and Mike Africa Jr.
A.K. Burns
A.K. Burns will be in residence to film collaborator Savannah Knoop among the line-sets and technical infrastructure in the Theater's fly tower. This will be the final production in a series of residencies at the Center, which has included a shoot with performer Shannon Funchess in the catwalks above the Concert Hall and experiments with light, haze, sound, rigging, and video. The scenes produced at EMPAC over the past two years will be incorporated into a long-form, multichannel image work for exhibition, which is premiering at the Julia Stoschek Collection in Dusseldorf in Fall 2019.
Anna Craycroft
Catskills-based artist Anna Craycroft will be in residence in the Theater to begin work on Only Breath, Words, a theatrical event that takes the embodied language characteristic of now-outmoded oral traditions as its starting point. She will be developing theatrical lighting rigs to project words and phrases onto the stage, and collaborating with EMPAC's production team to develop a site-specific sonic work that utilizes the Theater's plenum and air handling system.
Cenk Ergün, JACK Quartet
Turkish composer Cenk Ergün will be in residence with the JACK Quartet (Christopher Otto, Austin Wulliman, John Pickford Richards, Jay Campbell) to record a pair of string quartets—Sonare and Celare—for future release on the label New Focus Recordings.
Jaamil Olawale Kosoko
Performance artist Jaamil Olawale Kosoko will return to EMPAC this summer to continue working on Chameleon, following his work-in-progress presentation at EMPAC in February. A multimedia project that spans live performance, film installation, and podcast, Chameleon explores the role of media archives—including documentary films, popular music and television, and cellphone footage—in Black American diasporic communities.
Ana Navas
Venezuelan artist Ana Navas will be in residence in EMPAC's Concert Hall for the initial research phase of a new commission that entwines her own family history and that of the current political crisis in Venezuela with the 1950s collaboration between state architect Carlos Raúl Villanueva and American artist Alexander Calder, who designed the sculptural acoustic panels for Villanueva's "Aula Magna" concert hall at the Central University in Caracas.
James Richards
This spring, Berlin-based artist James Richards came to EMPAC for the first time to begin developing a newly commissioned sound and light installation for EMPAC's Concert Hall . Richards will return this summer with his collaborator, the British writer Chris McCormack, to workshop the new project's script, record with actors and musicians, and experiment with Ambisonic spatial audio technology. The finished work will premiere at EMPAC during the Fall 2020 season.
Justin Shoulder
Multidisciplinary artist Justin Shoulder will be in residence with support from the Australia Council for the Arts. Working with animation/virtual reality collaborators Sam and Andy Rolfes, the project Carrion aims to develop green-screen video content that the artist will manipulate live with a body sensor system.  
June 3, 2019
Author
Related