Image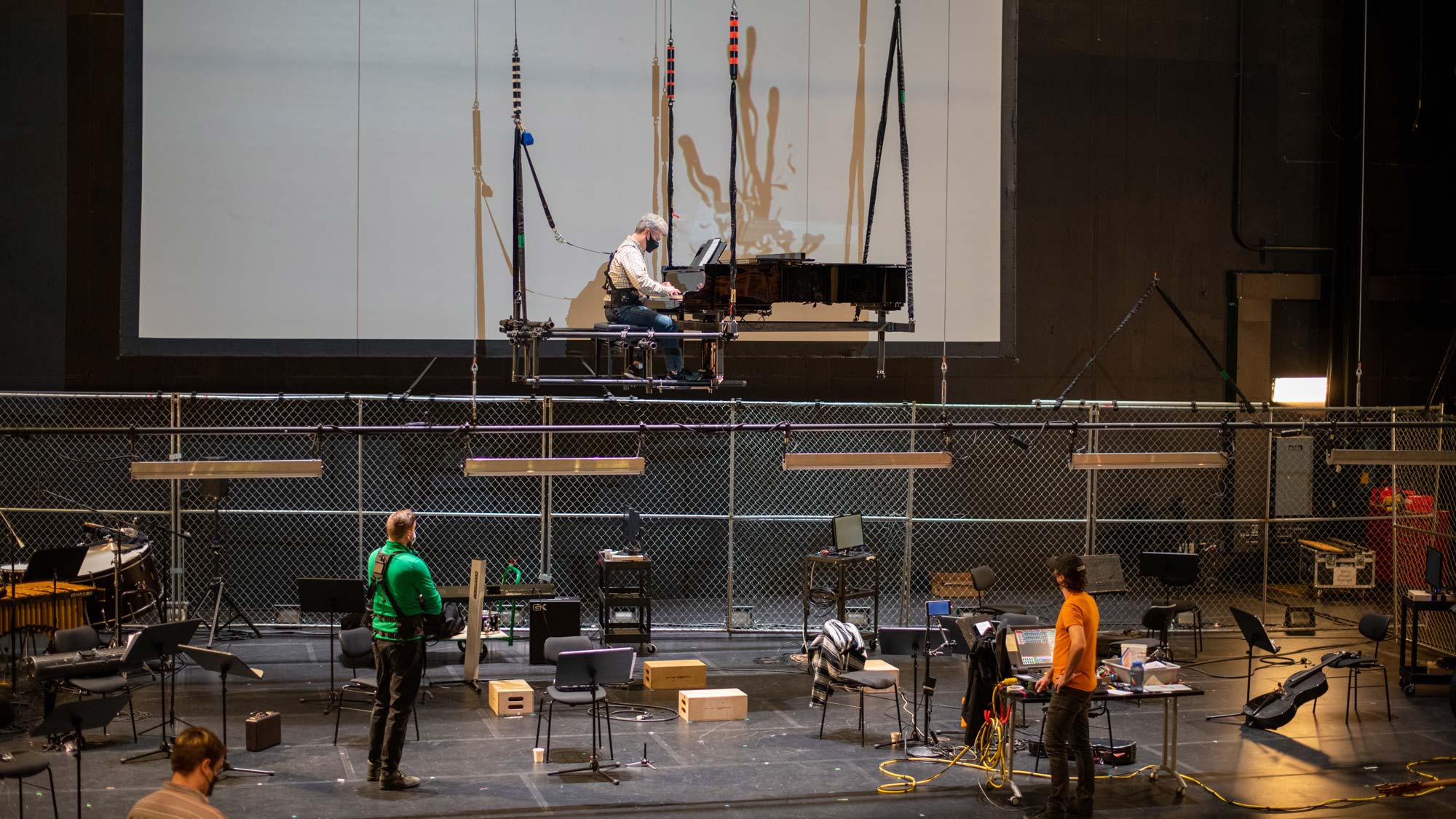 2023
Classical Notes: Interviews, live music tell tale of refugee plight
Classical Notes: Interviews, live music tell tale of refugee plight
Upcoming performance at EMPAC an effort delayed by COVID, immigration policy
The largest production of the current season at EMPAC has a curious and deceptively light name. "Paper Pianos" suggests something passing and ephemeral, but the unique musical documentary focuses on a weighty and always timely subject — the wrenching struggles of refugees seeking asylum in the U.S. The 90-minute work was co-created by composer Mary Kouyoumdjian and director Nigel Maister and is performed by Alarm Will Sound, a 16-piece chamber orchestra conducted by Alan Pierson. It plays for one performance at 3 p.m. Saturday, Feb. 25.
"We're really excited about this opportunity for an audience to hear about the refugee crisis directly from refugees. Instead of watching the news, it's getting a first-person account," said Kouyoumdjian, who is of Armenian heritage and the first in her family to be born in the U.S. Political and social conflict, diasporic communities, and compassion for the displaced and persecuted are regular themes in her compositions that she labels "music documentary works."
Use of the term "documentary" can imply film or video, but this particular piece contains no visual footage of refugees. Instead, their voices are excerpted from interviews and heard on an audio track accompanied by live music. At times the production includes a film component comprising graphic artist Kevork Mourad's interpretations of the voices and stories through hand-drawn animations.
The name "Paper Pianos" arises from the story of Milad Yousufi, who as a youth in Afghanistan risked his life pursuing music, which, according to the Taliban, was forbidden by Islam. He silently fought back by teaching himself to play piano using a keyboard that he drew on paper. After arriving in the U.S., Yousufi studied piano performance on full scholarship at the Mannes School of Music followed by a master's in composition at Brooklyn College. Kouyoumdjian first set Milad's story to music in 2016 in a 10-minute concert work commissioned and premiered by Alarm Will Sound.
That original piece was deemed a success and the concept was expanded to encompass refugees from Ethiopia, Somalia and Iraq. In turn, the staging and projections also grew and Kouyoumdjian became one of a team of collaborators. Her co-creator is Nigel Maister, a stage director who lives in Rochester and is a founding member of Alarm Will Sound, which was established at the Eastman School of Music and is now based in New York. Maister brought a director's eye and a taste for the unusual to performances of the ensemble, all in keeping with its mission to shake up the concert experience.
"The group has employed hybrid performance techniques from the beginning in order to boost theatricality," Maister said.
To obtain source material for the expanded version of "Paper Pianos," Maister and Kouyoumdjian engaged in extensive recorded interviews with the three more former refugees, all of whom now live in Rochester and work in refugee resettlement. Their efforts at combating administrative delays and governmental red tape on behalf of new refugees becomes a secondary theme to the show and also adds a new twist to the title – paper work.
The stories of these four refugees have shared themes – uprootedness, longing and hope – emotion that could be understood by most anyone. Yet the artistic work is "not a dramatic narrative but an informative story telling," Maister said.
The expanded version of the piece has been in the works since 2016, a period that included three residencies at EMPAC and several shifts in the geopolitical winds. "The situation changed radically," Maister said. "Trump came in and the number allowed to be admitted went down. There's been an ebb and flow over the course of the project."
The upcoming world premiere was postponed twice due to the pandemic. The EMPAC curator responsible for the selection was Anne Leilehua Lanzilotti who has since left the institution.
While the piece was commissioned for a musical ensemble, Kouyoumdjian's music now shares space with many other elements. Maister praises his colleague for making space for other artists to contribute, saying: "I think the small piece was really stunning in a profound way and Mary's being very generous in opening her concept to development with others. She deserves a lot of praise for her openness.We took a piece that was powerful and expanded it by many factors. That's a very un-precious approach to the work."
During a joint phone interview with the director and composer, Kouyoumdjian spoke with a rare artistic modesty. Asked for some specifics about her electro-acoustic score, such as did she build rhythms out of the speech patterns heard in the interviews? After acknowledging the question, she turned the discussion back to the humanitarian issues at stake in the subject and the importance of effective storytelling.
"I'm not paying attention to rhythm very much. I hope music doesn't get in the way," she said. "I see the music's primary purpose is creating space for these stories to be heard and creating empathy between speaker and listener. It's almost psychologically scored. I'm imaging how they're feeling when telling their story. How do I empathize with that person?"
Kouyoumdjian said the script does address political issues and realities, but the emphasis remains on the basic needs and experiences of the refugees.
"We all want a safe place to live and we value home, family, and freedom of expression."
February 19, 2023
Author
Publication Title
Albany Times Union