Image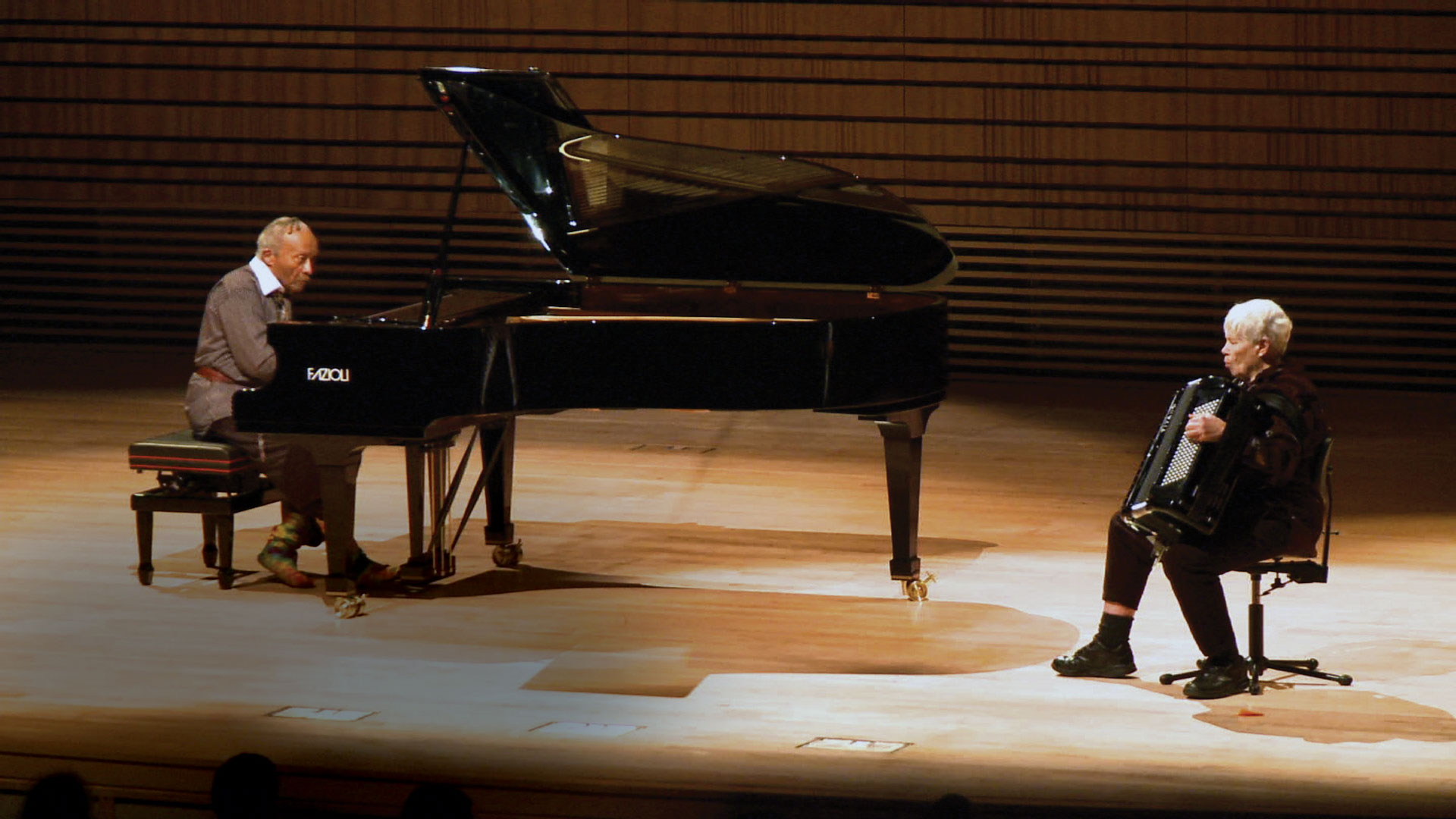 Publications
SOLO • DUO • POETRY
SOLO • DUO • POETRY
Cecil Taylor + Pauline Oliveros
Cecil Taylor and Pauline Oliveros were creators of American music that "never existed in the world" until they changed the world by making it. They were two of America's most unique creative voices—internationally renown as improvisors, composers, and philosophers-of-sound—as artists who were all of these things at once, challenging listeners to reconsider distinctions between composition, improvisation, the art of listening and making sound. As part of EMPAC's opening on October 5, 2008, they each performed as soloists, and then together for the first time.
On the occasion of Taylor's passing, and in dedication to both late musicians, EMPAC is pleased to make the DVD of this performance available to the public. Cecil Taylor + Pauline Oliveros Solo. Duo. Poetry. includes both performers' solo sets, their duet improvisation, as well as Floating Gardens: The Poetry of Cecil Taylor, and footage of the EMPAC Opening Festival, which ran October 3–10, 2008. We're pleased to share this historic performance with you for only the price of shipping and handling. Request your copy. 
Cecil Taylor
Cecil Taylor was born in 1929 and began playing the piano just five years later with his mother as teacher. He studied music theory and composition as a young adult at the New York College of Music (no longer in existence but was the oldest music conservatory in New York City). After graduating high school he attended New England Conservatory where his studies of classical piano technique and composition were extended. BY the mid-1950s, Taylor was widely recognized as a major "jazz" pianist, a term that he never agreed described his music. In a 1994 interview with Chris Funkhauser, Taylor said: "Well, I don't know what jazz is. And what most people think of as jazz I don't think that's what it is at all. As a matter of fact I don't think the word has any meaning at all..." By the mid-1960s Taylor was known in the USA and Europe as the most challenging piano improvisor in the world, leading ensembles performing his compositions on several major tours and engagements at jazz festivals worldwide—his music understood as a singular hybridity of American musical and cultural traditions. In 1973 Taylor won the prestigious Guggenheim Fellowship and in 1997 he received an honorary doctorate from the New England Conservatory, and a MacArthur Fellowship (the "Genius Award") in 1991.
Pauline Oliveros
Pauline Oliveros' life as a composer, performer, and humanitarian was about opening her own and others' senses to the many facets of sound. Since the 1960s sh profoundly influenced American music through her work with improvisation, meditation, electronic music, myth, and ritual. All of Oliveros' work emphasized musicianship, attention atrategies, and improvisation skills. She has been celebrated worldwide. During the 1960s, John Rockwell named her work Bye Bye Butterfly as one fo the most significant of that decade. IN the '70s, she represented the US at the World's Fair in Osaka, Japan; during the '80s, she was honored with a retrospective at the John F. Kennedy Center for the Performing Arts in Washington, D.C. The '90s began withy a letter of distinction from the American Music Center presented at Lincoln Center in New York. In 2000, the 50th anniversary of her work was celebrated with the commissioning and performance of her Lunar Opera: Deep Listening For_tunes.
DVD Content
ONE: Solo: Cecil Taylor
EMPAC Concert Hall | 32 minutes
TWO Solo: Pauline Oliveros
EMPAC Concert Hall | 16 minutes
THREE Duo: Cecil Taylor and Pauline Oliveros
EMPAC Concert Hall | 22 minutes
FOUR Floating Gardens: The Poetry of Cecil Taylor
EMPAC Theater | 75 minutes
FIVE: The EMPAC Opening Festival, October 3–10, 2008
DVD Credits
DIRECTOR: JOHANNES GOEBEL
MUSIC CURATOR: MICAH SILVER
AUDIO ENGINEERS: TODD VOS, JEFF SVATEK
VIDEO ENGINEERS: ERIC AMERES, MICK BELLO
CAMERA: LEE ASHBURN, MARTY FEDERICI, BOB LONG, MATT LONG, ALAN LUTZ, KATIE PERIS, SONJA STARK
VIDEO EDITING: ERIC BRUCKER (POETRY READING), ALEJANDRO BORSANI (CONCERT)
AUDIO MASTERING: JEFF SVATEK
DVD MASTERING: ERIC BRUCKER