Image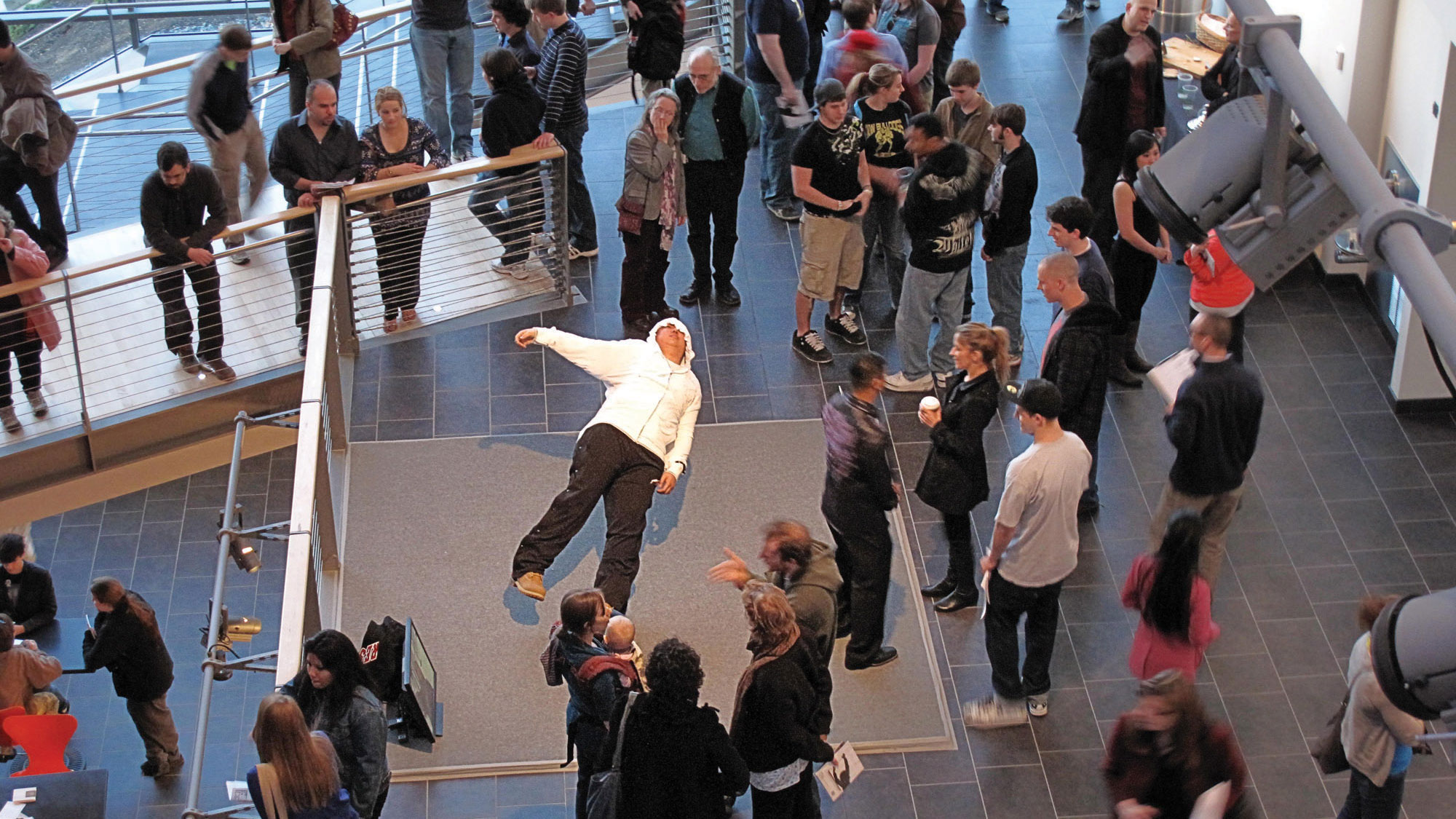 Dancing on the Ceiling
Art & Zero Gravity
March 18—April 10, 2010
Mezzanine
Dancing on the Ceiling: Art & Zero Gravity, is a major group exhibition in which contemporary artists explore—and on occasion recreate—the condition of weightlessness on earth. The exhibition will present the work of multiple national and international artists, including three newly commissioned pieces for the exhibition. Distributed throughout the public spaces in the building the exhibition is itself un-tethered from the confines of the traditional gallery exhibition paradigm.
Arts Catalyst • Benjamin Bergmann • Denis Darzacq • Edith Dekyndt • Chris Doyle • William Forsythe • Julia Fullerton-Batten • Thom Kubli • Tomás Saraceno • Jane & Louise Wilson • Xu Zhen
Dancing on the Ceiling will bring together artworks that use the metaphor of floating or weightlessness as an expression of the relationship of the individual to social, political or personal contexts. In addition, several of the pieces relate to lightness as akin to an agility of mind, freed of entrenched perspectives.
Occupying EMPAC's Studio 2, Jane and Louise Wilson's four-channel video installation Stasi City is a psychological investigation of the former headquarters of the East German secret police, culminating in a moment of escape. Xu Zhen's In Just a Blink of the Eye poses individual actors as if caught in a moment, defying gravity and time. The two video works that comprise William Forsythe's Antipodes I/II constitute a study of destabilizing habits of bodily movement in relation to gravity.
The artworks in the exhibition deploy helium, parabolic flight, rigging, and digital effects. They feature floating performers, an upside-down kitchen, an isolation tank and skateboarders freed from physical laws. They evoke the golden age of space exploration and the dreams of the counter-culture. Dancing on the Ceiling is a provocative convergence of time-based photography, sculpture, installation, and video.
Curated by Kathleen Forde, Curator of Time-Based Arts, the exhibition is accompanied by an exhibition catalog including essays by Italo Calvino as well as interviews with commissioned artists Chris Doyle and Thom Kubli.
Related Events:
Inhabiting Other Worlds: Microgravity, Perception, Physiology, and Design
A panel organized by the School of Architecture at Rensselaer with Rachel Armstrong, MD, Heidi DeBlock, MD, Ted Krueger, and Deepak Vashishth, PhD marking the opening of a student exhibition resulting from a studio dedicated to designing a medical station for a NASA lunar module.
Unfiction Series: Man On Wire
An Academy Award-winning documentary about Phillipe Petit's daring and defiant tightrope walk between the Twin Towers, which became known as the "artistic crime of the century."
Extraterrestrial Medical Workstation
Students from the School of Architecture and Department of Biomedical Engineering at Rensselaer imagine a medical center on the moon, in an exhibit of design studies commissioned by NASA's Habitability and Human Factors Branch. These design proposals anticipate the clinical and research protocols that will be used on the moon, and perhaps beyond. The best of them will be incorporated into a full-scale prototype lunar module that will be tested in the Arizona desert in August 2010.
Dates + Tickets
Dancing on the Ceiling
Art & Zero Gravity
------------ thru ------------