Image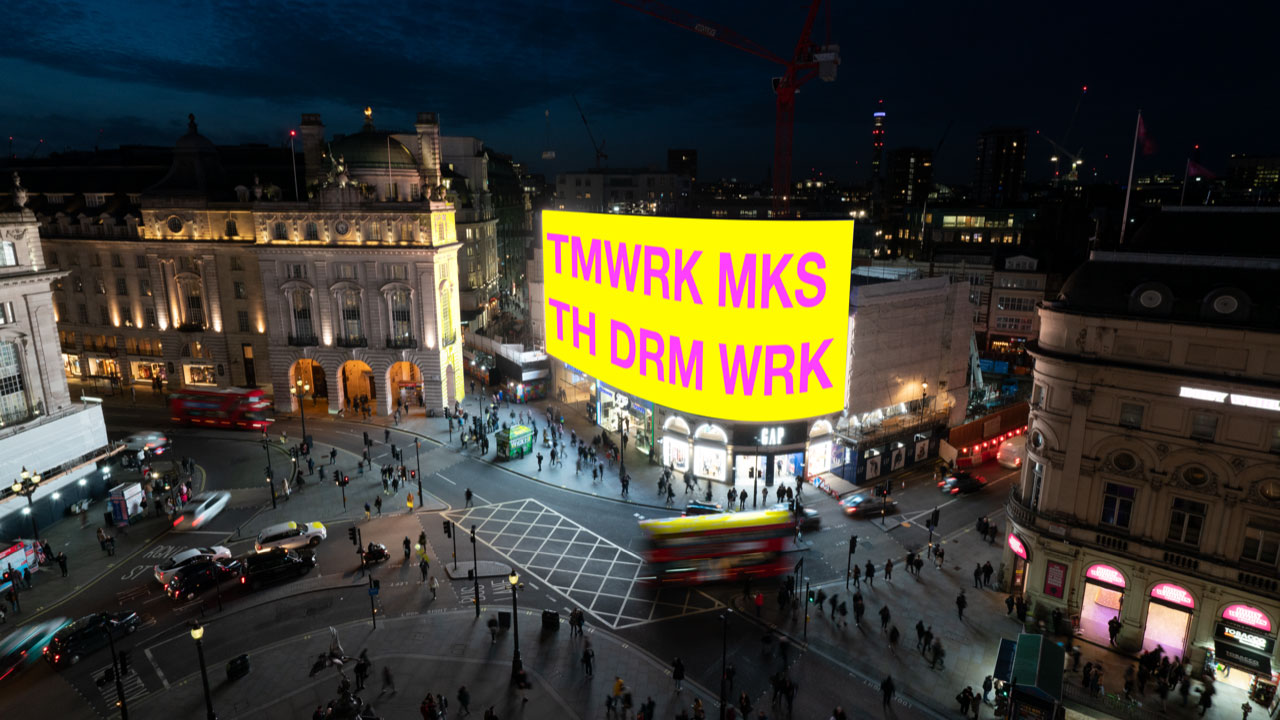 Tony Cokes
In conversation
Wednesday, May 12, 2021 at 5PM EST
Livestream
Please join us for an online presentation with American artist Tony Cokes. 
Through a rigorous analysis of images and language, Tony Cokes dissects the often-obscured power dynamics at work in the cultural and political representation of histories of Blackness, class, and the war on terror. 
Cokes' distinctive artworks and installations center on videos that foreground textual statements, often overlaid onto colorful monochromatic backgrounds with pop, punk, and electronic music soundtracks. Quoting language from across the political spectrum—from philosophical statements to news, art criticism, advertising, and song lyrics—Cokes mixes linguistic, visual, and sonic oppositions in a pared back approach that refuses the easy desire for a spectacular image. Shot through with wry humor and the aesthetics and upbeat music of popular culture, the videos project unstable meanings that deconstruct how we receive and read images.
The talk will be followed by a Q&A with the artist.
Dates + Tickets
Tony Cokes
In conversation
Season
Production Credits
This event is a collaboration between EMPAC and the iEAR Presents series with support from RPI's ARTS department and School of Humanities, Arts and Social Science. Community Co-Sponsor is The Sanctuary for Independent Media, www.MediaSanctuary.org. Funding has been provided by the Electronic Film and Media area of the New York Council on the Arts.
Funding
EMPAC Spring 2021 presentations, residencies, and commissions are made possible by Rensselaer Polytechnic Institute, with additional support from the Jaffe Fund for Experimental Media and Performing Arts; National Endowment for the Arts; New York State Council on the Arts with the support of Governor Andrew M. Cuomo and the New York State Legislature; the Australian Government through the Australia Council for the Arts; and Vlaamse Gemeenschap, department of Culture, Youth, and Media. Additional project support by the Andy Warhol Foundation for the Visual Arts; New Music USA; CCS Bard; National Performance Network (NPN) Creation & Development Fund; Creative Capital; the Graham Foundation; and the National Culture and Arts Foundation, Taiwan; Music on Main and PuSh Festival (with support from the Canada Council for the Arts, British Columbia Arts Council, Lēna, Banff Centre for Arts and Creativity, Action at a Distance, SFU Woodwards, The Scotiabank Dance Centre, and CCOV, as well as the Downtown Vancouver Business Improvement Association, Jim and Lisa Peers and an anonymous sponsor.)