Image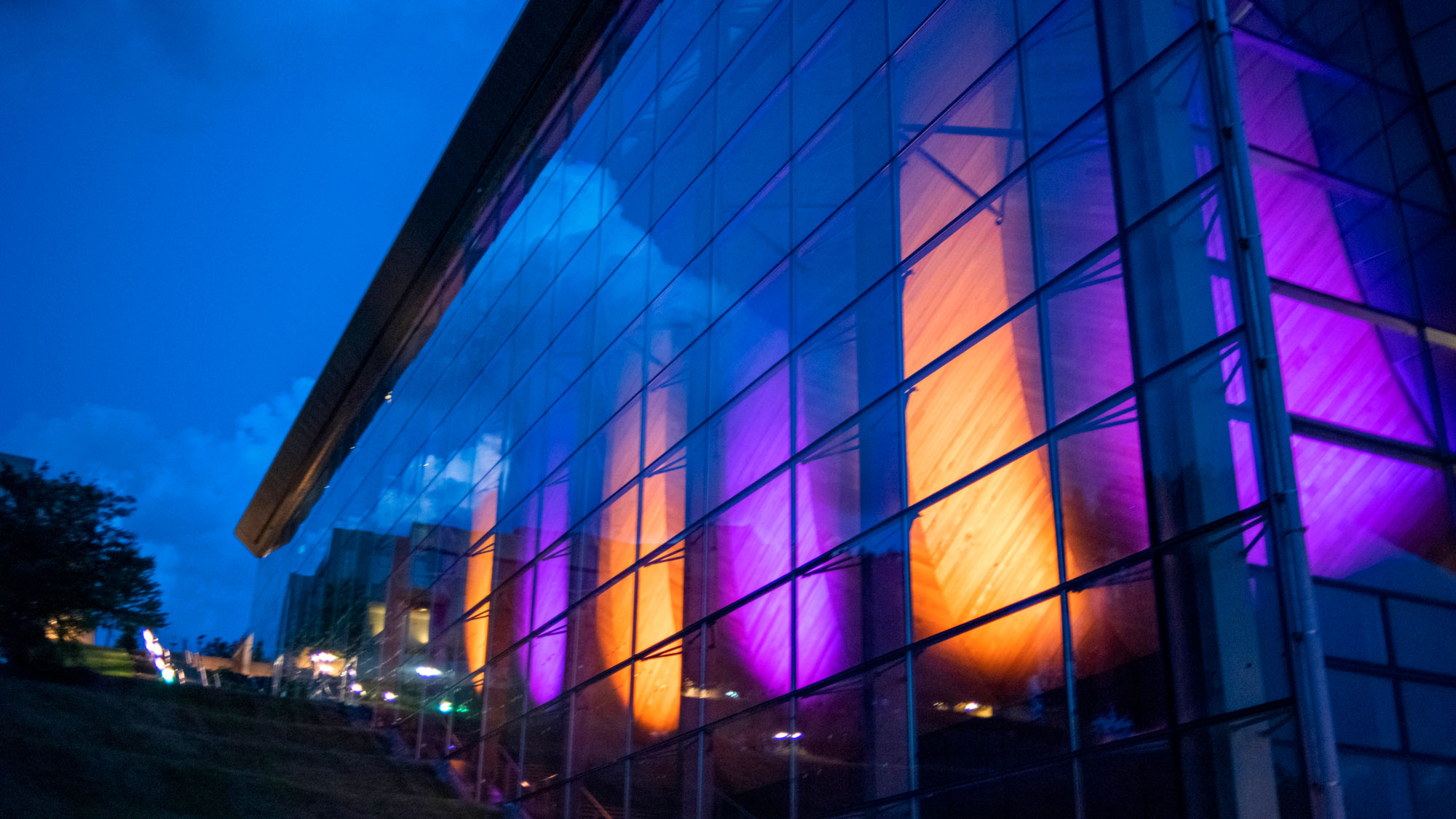 2020
Forward into Light: Celebrating 100 Years of Women's Suffrage
Forward into Light: Celebrating 100 Years of Women's Suffrage
EMPAC will be lit up in purple and gold August 26-31st
TROY, NY—Joining hundreds of buildings and landmarks across the country, EMPAC will light up at dusk on August 26, 2020 with the suffrage colors of purple and gold, commemorating the 100th anniversary of the 19th Amendment and women's right to vote in the United States. Named in honor of the historic slogan:
Forward out of error
Leave behind the night
Forward through the darkness
Forward into light
The nationwide Forward Into Light campaign is led by the Women's Suffrage Centennial Commission and supported by the National Endowment for the Arts.
The lighting event at EMPAC both celebrates this milestone of American democracy and acknowledges the ethical imperative to effect change and promote equality within our institutions and beyond. As a founding member of the Feminist Art Coalition (FAC), a group of over 100 museums and non-profit art institutions from across the U.S., EMPAC's 2020 curatorial program is suffused with feminist thought, experience, and action, and considers art as a catalyst for discourse and civic engagement.
Dicen que cabalga sobre un tigre (They say she rides a tiger) by Puerto Rican artist Beatriz Santiago Muñoz, is commissioned as part of the Feminist Art Coalition's strategic endeavor and is currently in production at the Center.  The artist's new moving image work entwines the linguistic structure of Monique Wittig's iconic 1969 feminist novel Les Guérillères with the material and social history of the Caribbean. It visualizes the ecstatic potential of a near-future, non-binary world order through the struggles of its protagonists to imagine a new sort of sensorium—an autonomous language of post-colonial and post-patriarchal society. Animated by a shifting cast of collaborators from music, performance, art, and poetry, it will premiere at EMPAC in Spring 2021, and is supported by the Andy Warhol Foundation for the Visual Arts, Creative Capital, and the NEA. 
The spirit of the suffragettes is further reflected in many of the NEA-funded commissions currently in production at EMPAC, from Clarissa Tossin's Mojo'q che b'ixan ri ixkanulab' / Antes de que los Volcanos Canten / Before the Volcanoes Sing, that considers the privileged place of performance in ancient Maya architecture and cosmology as a means to reclaim space for Indigenous traditions in the present to NiJa Whitson's The Unarrival Experiments that uses theatrical darkness and light to illuminate the relationships between astrophysics, cosmology, Blackness, Trans embodiedness and premature death, revealing vaporous qualities of physical experience in space.  
The Forward Into Light installation can be seen from dusk until dawn through the end of August.
Although the 19th Amendment was ratified in 1920, this landmark event privileged white women, while many Black and Indigenous women and women of color continued to struggle for the right to vote. To this day, many communities throughout the US continue to be disenfranchised.  The journeys of some of these women are highlighted in the links below:
Reading List: