Image
2023
EMPAC Senior Curator Ashley Ferro-Murray Joins NYS DanceForce
EMPAC Senior Curator Ashley Ferro-Murray Joins NYS DanceForce
Congratulations to all the dance activists who are new members of the network.
The New York State DanceForce Member Search Committee has just concluded a four-month long statewide search for new members. The following were chosen from an extremely competitive pool of 26 applicants:
Jenise Akilah Anthony – Brockport (Monroe County)
Sukanya Burman – Jamestown (Chautauqua County)
Ashley Ferro-Murray – Troy (Rensselaer County)
Missy Pfohl Smith – Rochester (Monroe County)
Glenna Yu – Andes (Delaware County)
"We're very happy to see such an influx of new talent into our ranks," says DanceForce Director Curt Steinzor. "These five dance advocates will assist us tremendously in our pursuit of geographic, artistic, racial, and professional diversity like that of upstate New York's broad and varied citizenry."
Those selected will officially become new members on July 1, 2023 and will design their first projects to occur during the July 2024 to June 2025 project cycle.
Jenise Akilah Anthony is Assistant Professor of Dance at SUNY Brockport. She is also the Director of the school's Sankofa Dance and Drum Ensemble. Additionally, she is the founder and artistic director of the Echoes of Afrika Dance Collective.
Sukanya Burman is a dancer and choreographer trained in Bharatanatyam, Kathak, modern, contemporary and ballet. She toured nationally and internationally as a repertoire member of Rhythmosaic Dance Company and recently founded Sukanya Burman Dance Company in Jamestown.
Ashley Ferro-Murray is a senior curator of theater/dance at the Curtis R. Priem Experimental Media and Performing Arts Center (EMPAC) at Rensselaer Polytechnic Institute in Troy. Her curatorial practice focuses on expanding histories of performance and technology artworks while supporting artist-centered approaches to media in contemporary performance.
Missy Pfohl Smith is a choreographer, performer, and collaborative artist who directs the Program of Dance and Movement and the Institute for the Performing Arts at the University of Rochester. She founded and serves as artistic director for the contemporary repertory company, BIODANCE, based in Rochester.
Glenna Yu is a movement artist and co-founder of Pillow Fort Arts Center, a cross-disciplinary artist residency/community based in Andes. She currently dances with NK&D / a movement company, BIRDHOUSE under the direction of Raven White, and H.T.Chen & Dancers.
The New York State DanceForce is a consortium of dance activists committed to increasing the quantity and quality of dance activity throughout New York State. Each volunteer member receives an annual allocation (currently $10,000) to create projects that bring dance artists to upstate New York communities in customized residencies. Since its founding in 1994, the DanceForce, through the work of its members, has funded over 450 projects, raising more than $3 million in support of these endeavors. The NYS DanceForce receives major support from the New York State Council on the Arts. More information about the NYS DanceForce can be found at danceforce.org.
About the New York State Council on the Arts (NYSCA)
NYSCA preserves and advances the arts and culture that make New York State an exceptional place to live, work and visit. The Council upholds the right of all New Yorkers to experience the vital contributions the arts make to our communities, education, economic development, and quality of life. To support the ongoing recovery of the arts across New York State, NYSCA is awarding record funding in Fiscal Year 2023, providing support across the full breadth of the arts.
NYSCA further advances New York's creative culture by convening leaders in the field and providing organizational and professional development opportunities and informational resources. Created by Governor Nelson Rockefeller in 1960 and continued with the support of Governor Kathy Hochul and the New York State Legislature, the Council is an agency that is part of the Executive Branch. For more information on NYSCA, please visit http://www.arts.ny.gov, and follow NYSCA's Facebook page, Twitter @NYSCArts and Instagram @NYSCouncilontheArts.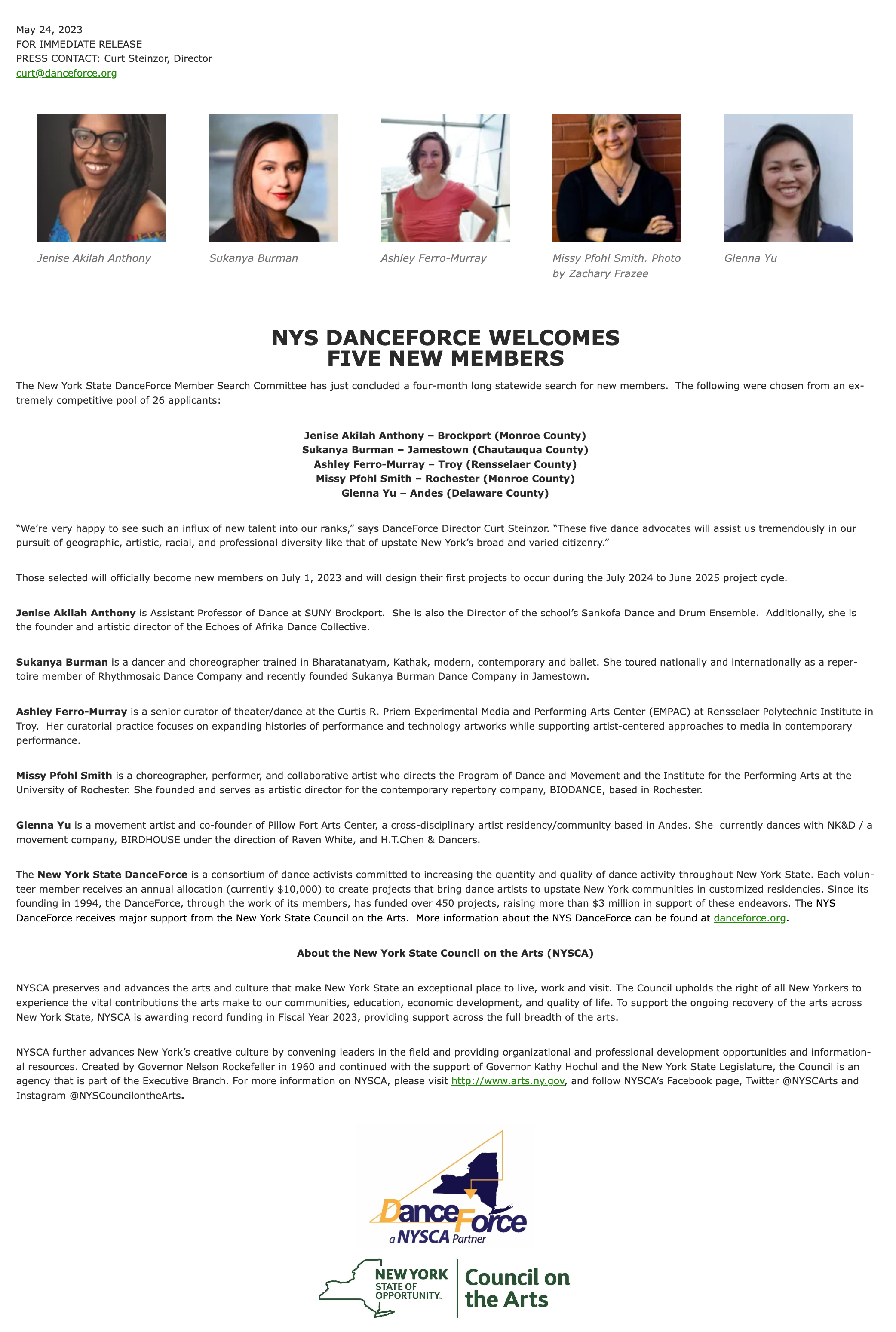 May 24, 2023
Author
Publication Title
NYS DANCEFORCE WELCOMES FIVE NEW MEMBERS