Image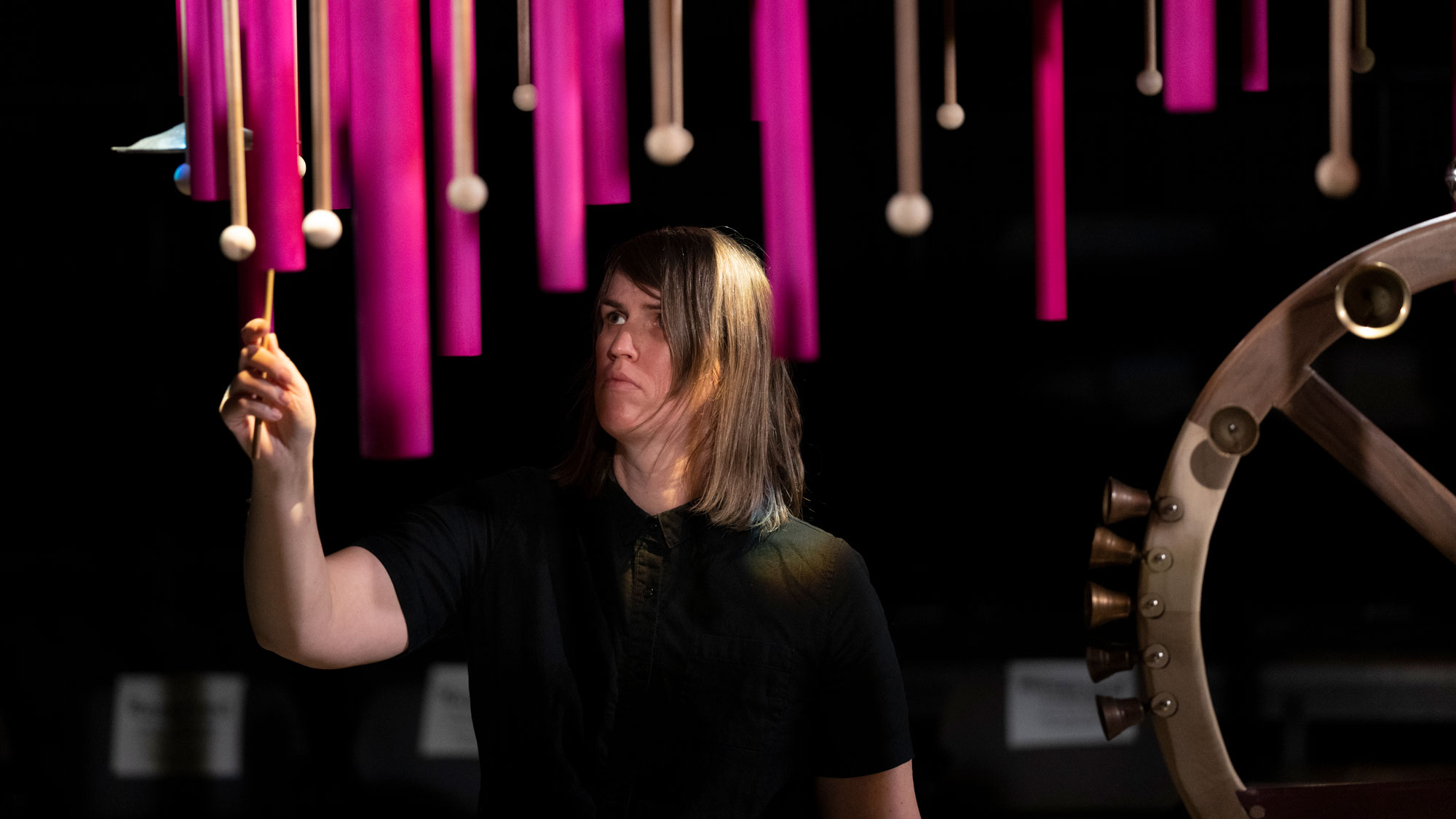 2023
Expect more inclusion from new curator at EMPAC
Expect more inclusion from new curator at EMPAC
Amadeus Julian Regucera sees diversity and identity as key in upcoming events at RPI
Amadeus Julian Regucera is a new member of the curatorial team at EMPAC and it's easy to guess-—given his first name—the artistic discipline he works in. Regucera, 38, is a composer, performer, producer and educator. He and his partner resettled in Troy during the fall having relocated from the Bay Area where he was a faculty member at UC Berkeley and also earned his PhD. Regucera has lots to say about music, diversity, and identity and with EMPAC's multiple wired-up venues now at his disposal, he's got a strong platform on which to realize his vision.
We'll get around to the vision thing soon enough but let's not put off addressing the name Amadeus. Regucera says that his first moment of inspiration to be a musician came when he saw Elton John on "Sesame Street" and that in choosing his given name, his parents didn't have any intentions of charging him with a musical destiny. He explains: "I was named after my grandfather who has the Spanish version of my name, Amadeo. My parents anglicized it, not knowing it was a thing."
This brief diversion into the gentleman's moniker shows that emphasizing names and labels can sometimes result in a nice anecdote, but can also consign people into boxes, which can soon lead to barriers, limitations and prejudices. Identity and opportunity are important concerns to Regucera in his work as both an artist and a curator.
"I am queer and a Filipino and working in the milieu of European modernism is weird. I've always been an outsider. I'm told I'm too European for America, too American for Europe," he says. "There's a lot discourse around identity and I think it's being oversimplified. The very nature of identity is oversimplified. I want to bring the complexity to the programming."
Ragucera's first EMPAC production, "A Kind of Ache" will be staged on Friday, Jan. 27. The piece is about an hour long and the composer is Sarah Hennies, who teaches at Bard College. The music is performed around and on a sculpture by visual artist Terry Berlier that resembles a rotating chandelier adorned with hanging pipes and chimes. The piece is realized by guitarist Travis Andrews and percussionist Andy Meyerson, who together comprise the duo The Living Earth Show, and they are joined by Hennies in the performance.
In a video of the 2021 premiere at the University of Maryland, "A Kind of Ache" feels improvisational and has a meditative mix of metallic percussion and guitar drones that's performed on a dark and shadowy stage. The spaciousness of it all seems to allow room for the weighty thematic ideas. "That piece gets at and interrogates what it could mean to be queer in a heterosexual environment in society and culture at large and primarily classical music," explains Regucera.
While acknowledging that today's classical music scene isn't exactly hostile to gay people, he continues: "Queerness is not exclusive to being gay. There is a normativity with a capital G." He then discusses transgender people, their struggles and the many forms of violence often leveled against them, and adds that the trans perspective informs much of Hennies' music. "Queerness in the work sort of bumps up against normativity," he says.
Audiences can expect matters of sexuality, gender and inclusion to be foregrounded in more upcoming EMPAC programs. (The use of "foreground" as a verb has become common lately among artists and academics.) Regucera says that The Living Earth Show will be returning regularly to EMPAC. The website of the guitar and percussion duo states: "The organization uses the tools of experimental and contemporary chamber music to foreground BIPOC and LGBTQ+ artists."
Social concerns aren't the only focus for Regucera. "I'm a big classical music nerd," he says. "I started with piano like every good music kid and got into drumming in punk bands during middle school through grad school. My heart is in punk and hardcore, but I am classically trained."
Informal networking in the region has come easily for Regucera who's tapped into a creative stream that seems to pick up where he left off in Berkeley. "I know just by being in Troy a few months and interacting with local people in the arts scene and in the area, there's a quite developed experimental and noise community. We have similar frames of reference," he says.
After rattling off names of noise artists working in the Northeast and Berlin, he takes a step back to explain how this aesthetic might come through in his programing at EMPAC, where he expects to produce six to eight events per year. "I like music with edges and that means not with an attitude, but in the musical lines and how they fit together and are well designed to have a sharpness that I find really visceral and dynamic," he says. Asked to provide some recognizable forebears to the use of noise in music, he offers an international mix: Stravinsky, Bartok, Boulez and Cage.
A clue to another avenue of interest for Regucera can be found in his professional bio, which states that he "engages with the embodied and acoustical energy of sound and the erotics of its production through concert music, installation, performance art, and video." There's a couple words in there – "embodied" and "erotics" – that aren't often heard in connection to music and therefore call for some explanation. Regucera explains: "It's bringing the sensuality inherent already in music to the foreground. This can be an aggressive sound or gesture, musical or physical, or soft in how a percussionist caresses the bass drum."
It sounds like he's talking about the intimacy and expression of chamber music, and Regucera does foresee producing events that more closely resemble what we think of as a concert. "More traditional sonorous music" is the way he describes it and adds that straight-up classical repertoire might be reframed and recontextualized for presentation at EMPAC.
"Being a curator here opens up the opportunities for all different kinds of styles, not just the identity-based art but also noise, chamber music and experimental theater. I can bring in artists who span the entire spectrum and let them explore."
Joseph Dalton is a freelance writer based in Troy.