Image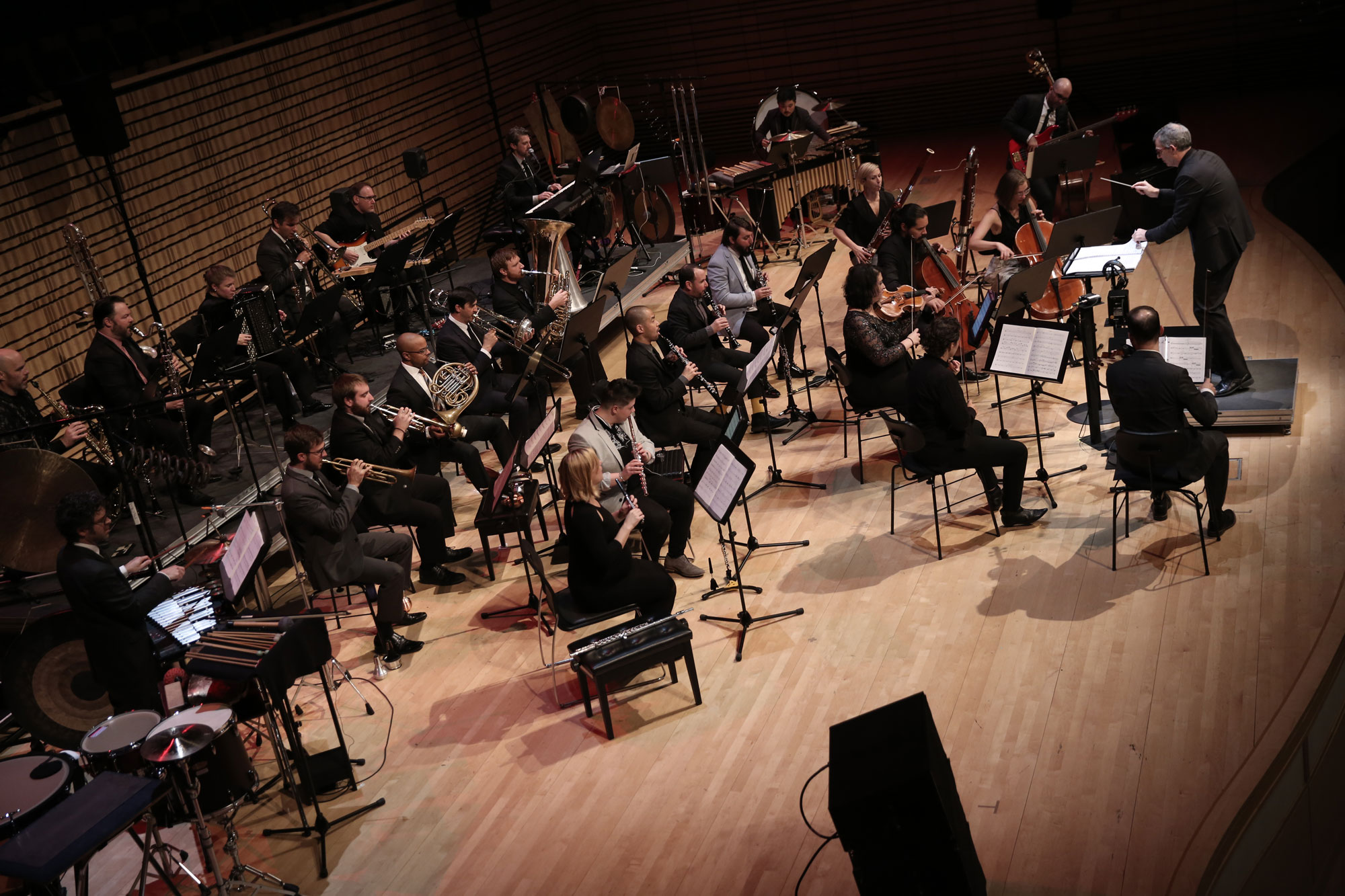 Lost Highway Suite by Olga Neuwirth
International Contemporary Ensemble
Saturday, October 13, 2018 at 8PM
Concert Hall
Lost Highway Suite by Olga Neuwirth is a composition for a large ensemble of musicians, six soloists, and live electronics, with many loudspeakers surrounding the audience. The suite is drawn from the orchestral parts of Neuwirth's 2003 opera Lost Highway, the libretto of which was co-written by Austrian Nobel Laureate Elfriede Jelinek and inspired by the film of the same name by David Lynch and Barry Gifford.
The suite consists of instrumental sections from the opera that the composer has tied together into one piece. The opera and its libretto set the tone and atmosphere for this composition, but there is no direct link between the film and the suite. However, the film, opera, and suite share a common structural approach. Rather than pursuing narrative continuity and evolution, different musical tableaus and sonic spaces are established, which then mutate, and change into one another, almost like cuts between different scenes in a film.
Six soloists (saxophone, clarinet, trombone, guitar, accordion, and keyboards) are positioned behind the ensemble and channeled to the live electronic system, the output of which is then fed to the loudspeakers. Originally, the suite was performed with a ring of loudspeakers surrounding the audience. The performance here at EMPAC will utilize a 64-loudspeaker dome installed in the concert hall, for which the electronic part of the composition needed to be reprogrammed. This technology, High-Order Ambisonics, is a refined system for the spatial projection of sound environments that goes beyond traditional stereo or surround sound that we may know from movie theaters. Underlying the music is a series of existential questions: How do we know what is real and what is imagined? How do we differentiate between what is inside of us and what is outside? How do we get out of a situation that seems like an infinite loop with no beginning, middle, or end, when we do not see a way out?
Austrian composer Olga Neuwirth (born 1968) gained international recognition at the age of 22 for two mini-operas based on works of Nobel Prize-winner Elfriede Jelinek. Since then, she's written several music theater pieces including her first dramatic work, Bählamms Fest (also based on one of Jelinek's works), The Outcast, American Lulu, and Hommage á Klaus Nomi.
International Contemporary Ensemble (ICE) is a 35-member artist collective that explores how new music intersects with communities across the world. Works by emerging composers have anchored ICE's programming since its founding in 2001, and the group's recordings and digital platforms highlight the many voices that weave music's present.
Dates + Tickets
Lost Highway Suite
Olga Neuwirth / International Contemporary Ensemble