Image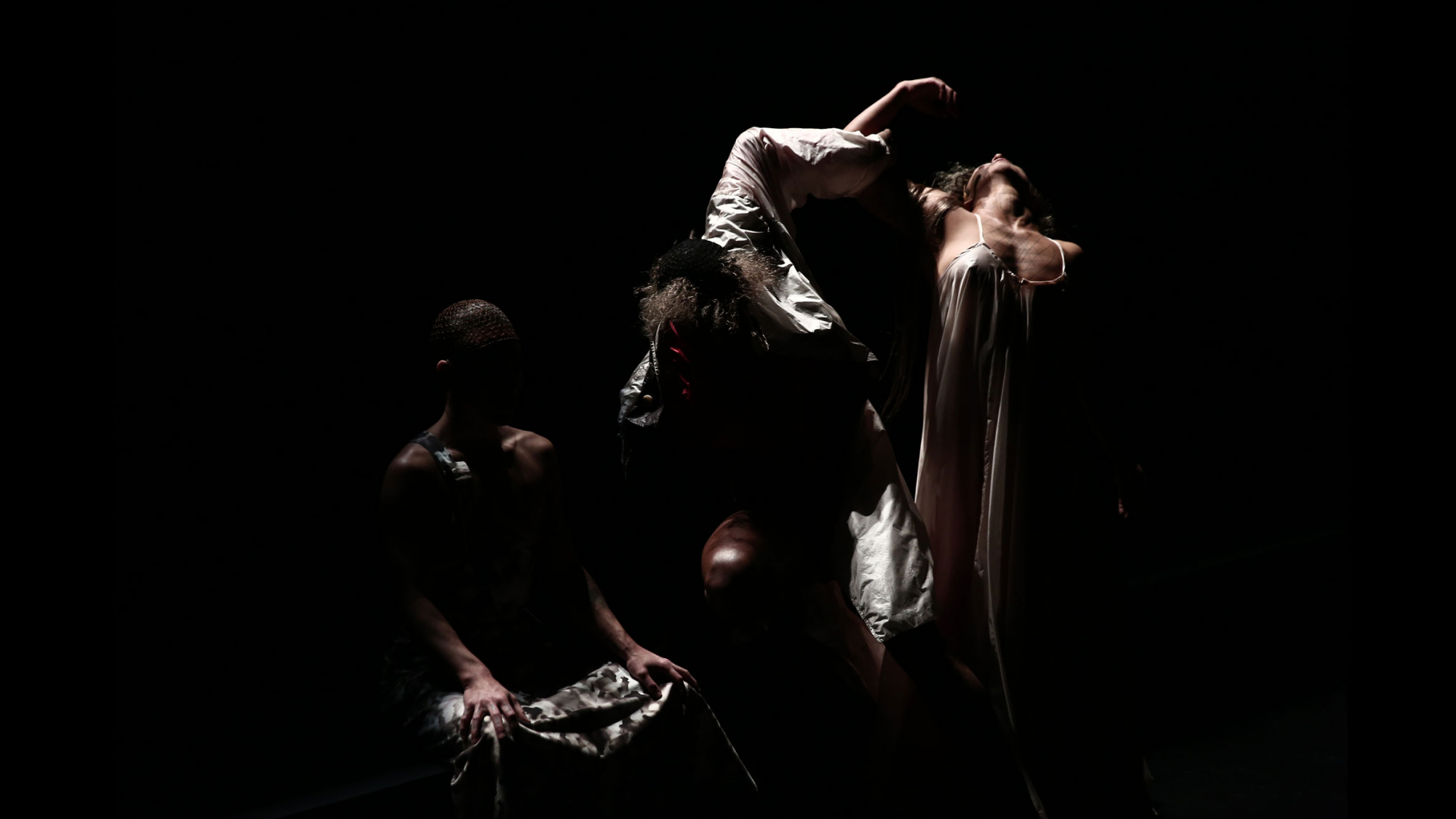 Sudden Rise
Moved by the Motion (Wu Tsang and boychild with Patrick Belaga, Josh Johnson, and Asma Maroof)
Saturday, October 13, 2018 at 9:30PM
Theater
A newly commissioned ensemble performance for EMPAC's 10YEARS celebration, Sudden Rise explores the interplay between the live and the pre-recorded. Moving fluidly between voice, movement, and image, Moved by the Motion resists the structural hierarchies inherent within and between artistic disciplines and reflects the spirit of the continually shifting improvisational ensemble.
Moved by the Motion is an ongoing, iterative performance project initiated by Wu Tsang and boychild in 2013 that features a shifting group of collaborators including Patrick Belaga, Josh Johnson, and Asma Maroof, among others. The ensemble explores different modes of storytelling through an improvisational structure. Each performance is a series of translations between text, movement, film, theater, and music.
Program Notes
Moved by the Motion is an interdisciplinary ensemble formed by Wu Tsang and boychild in 2013 that comprises an expanding group of artists, including Patrick Belaga, Josh Johnson, and Asma Maroof. Using iterative methodology, the process of making each new performance both extends and is informed by the last. The resulting cross-fade of ideas and actions is communally interpreted, dissolving the dominance of one discipline over another, and deliberately entangling language, movement, image, film, and music through a process of repetition and reinterpretation. In this way, the artists build a shared language that is developed through communal work while remaining deeply informed by their own disciplinary specificity. 
Sudden Rise is also iterative in the sense that the script is derived from a collection of textual fragments from Sudden Rise at a Given Tune, collaboratively written by and with the poet and writer Fred Moten. The script's structure is framed by an interweaving of the collective's work with the words and actions of those who have come before, such as civil rights activists, poets, essayists, and social historians of the 20th century Langston Hughes, James Baldwin, and W.E.B Du Bois. In the same breath are fragments of Jimi Hendrix' lyrics, Hannah Arendt's musings, and Oskar Becker's "mantic" (between mathematics and philosophy) phenomenology. 
Collectively assembled as a collage of words, filmic images, movements and sounds, the performance is not only an Exquisite Corpse (the Surrealist chance-based game of consequences) but rather builds its form through the deliberate and historically grounded undisciplining of ideas, knowledge, and experience. The performance also references "phantasmagoria," an 18th century form of horror theater that used proto-projections and scrims as if a collective of non-beings are performing with those on stage, to echo stories of trauma and resistance across, through, and out of time. 
The narrative structure of Sudden Rise is influenced by Shakespearean tragedy and alludes to the dramaturgical specificity that the proscenium stage implies. At the same time, it works against these conditions, committed to an improvisatory and epistolary process as each artist interprets their own role in relation to each other. boychild and Josh Johnson perform an endless duet in multiplication with each other and themselves as pre-recorded images, reimagining the early days of cinema when projections shared the stage with theatrical performers. The classical tradition that resonates from Patrick Belaga's cello intertwines with the electronic repetition of Tsang and boychild's voices looped and repeated by Asma Maroof, and the chiaroscuro lighting of baroque portraiture is diffused against digital architectures, spatial grids, and test patterns that continually reform the time and perspective on stage. 
Sudden Rise stages trauma as not only tragedy but also as a site of remaking through the unending and entangled formations of Blackness and queerness. Through direct contact between performers, words, and music, Sudden Rise makes visible how this spatial, oral, and haptic communication takes form. It visualizes how gestures, languages, and techniques are inherited and reproduced, and it imagines a new dimension in which deep historical memory and contemporary bodies are entwined and processed on stage. 
—Vic Brooks, Curator, Time-Based Visual Art, 2018
Dates + Tickets
Dance/Theater
Time-Based Visual Art
Commission
Sudden Rise
Moved by the Motion
$16, $13, $6, EMPAC+ Free
As part of
Season
Funding
EMPAC 2018–19 presentations, residencies, and commissions are supported by Rensselaer Polytechnic Institute, the National Endowment for the Arts, and the Jaffe Fund for Experimental Media and Performing Arts.