Image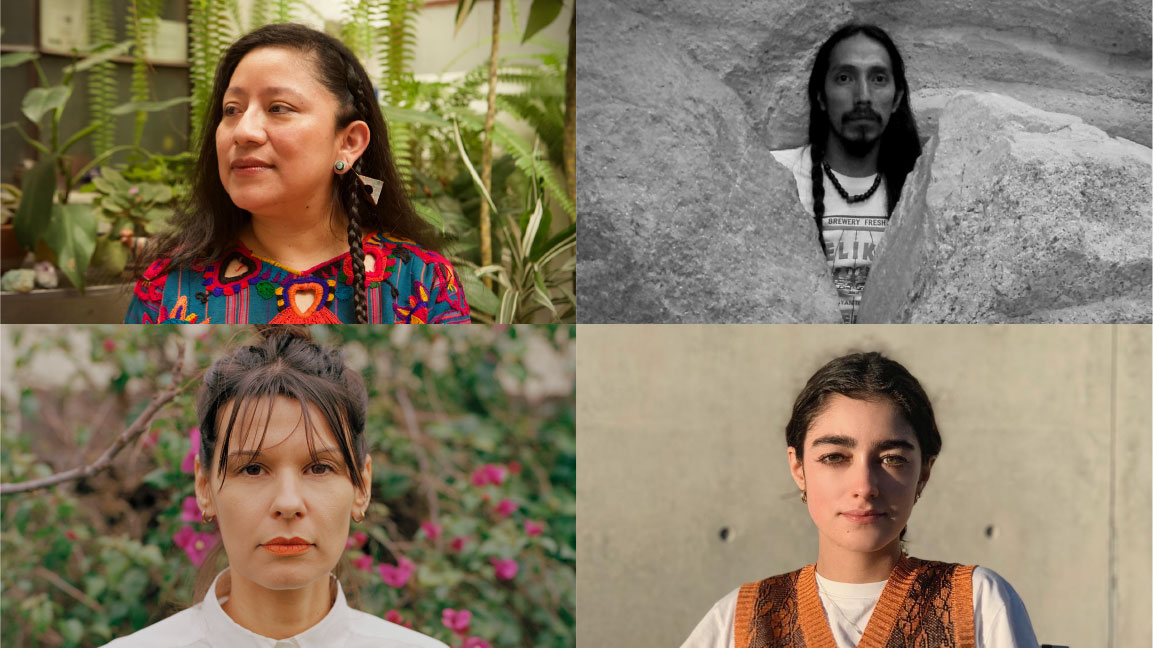 Mojo'q che b'ixan ri ixkanulab'
Rosa Chávez and Tohil Fidel Brito in conversation with Clarissa Tossin and Mariana Fernández
Wednesday, March 17, 2021 at 5PM
YouTube Live
This online event presents artist Clarissa Tossin in conversation with poet, artist, and activist Rosa Chávez and artist Tohil Fidel Brito. The conversation is moderated by curator and writer Mariana Fernández and features poetry by Chávez as well as Brito's work with classical Maya glyphs. 
Traversing their intersecting references, interests, and modes of inquiry, the three artists discuss the potential of art and poetry to articulate suppressed narratives and histories. The conversation foregrounds the importance of Indigenous ancestral knowledge and cultural practice for Maya artists in order to counteract the systemic erasure of their culture. In particular, Chávez and Brito trace the ways in which K'iche' (the widely spoken Maya language of Guatemala) and other Mayan languages are central to their approach towards artmaking. 
Chávez and Brito are collaborating with Tossin on her forthcoming EMPAC-commissioned moving image work Mojo'q che b'ixan ri ixkanulab' / Antes de que los volcanes canten / Before the volcanoes sing. The strategies of linguistic and temporal decolonization explored in this conversation, and common to all of the artists' work, are similarly reflected in Tossin's collaborative approach to the production of her new film, which seeks to perform a gesture of repair for the trauma of cultural erasure and appropriation. 
Currently in production, Mojo'q che b'ixan ri ixkanulab' / Antes de que los volcanes canten / Before the volcanoes sing takes a sonic approach to reclaiming the Indigenous cultural motifs borrowed by Western architects in the 1920s Mayan Revival style through the study and performance of 3D printed replicas of Maya wind instruments from pre-Columbian collections held in US and Guatemalan museums. Principally filmed at Sowden House in Los Angeles, it animates the Mayan iconography that was co-opted and transformed into the building's architecture through sound, performance, and poetry. These actions generate a kind of healing ritual that seeks to bring the appropriated Mayan motifs back into conversation with the contemporary Maya cultures that thrive in Los Angeles, where Tossin lives. 
This conversation is presented in Spanish with English subtitles. Translation by Mariana Fernández. It includes poetry by Rosa Chávez spoken in K'iche'.
Dates + Tickets
Decolonizing Language: Mojo'q che b'ixan ri ixkanulab'
Rosa Chávez and Tohil Fidel Brito in conversation with Clarissa Tossin and Mariana Fernández
As part of
Season
Production Credits
Mojo'q che b'ixan ri ixkanulab' / Antes de que los Volcanes Canten / Before the Volcanoes Sing is commissioned by EMPAC and supported by the Andy Warhol Foundation for the Visual Arts, the Graham Foundation, and the National Endowment for the Arts.
Funding
EMPAC Spring 2021 presentations, residencies, and commissions are made possible by Rensselaer Polytechnic Institute, with additional support from the Jaffe Fund for Experimental Media and Performing Arts; National Endowment for the Arts; New York State Council on the Arts with the support of Governor Andrew M. Cuomo and the New York State Legislature; the Australian Government through the Australia Council for the Arts; and Vlaamse Gemeenschap, department of Culture, Youth, and Media. Additional project support by the Andy Warhol Foundation for the Visual Arts; New Music USA; CCS Bard; National Performance Network (NPN) Creation & Development Fund; Creative Capital; the Graham Foundation; and the National Culture and Arts Foundation, Taiwan; Music on Main and PuSh Festival (with support from the Canada Council for the Arts, British Columbia Arts Council, Lēna, Banff Centre for Arts and Creativity, Action at a Distance, SFU Woodwards, The Scotiabank Dance Centre, and CCOV, as well as the Downtown Vancouver Business Improvement Association, Jim and Lisa Peers and an anonymous sponsor.)