Image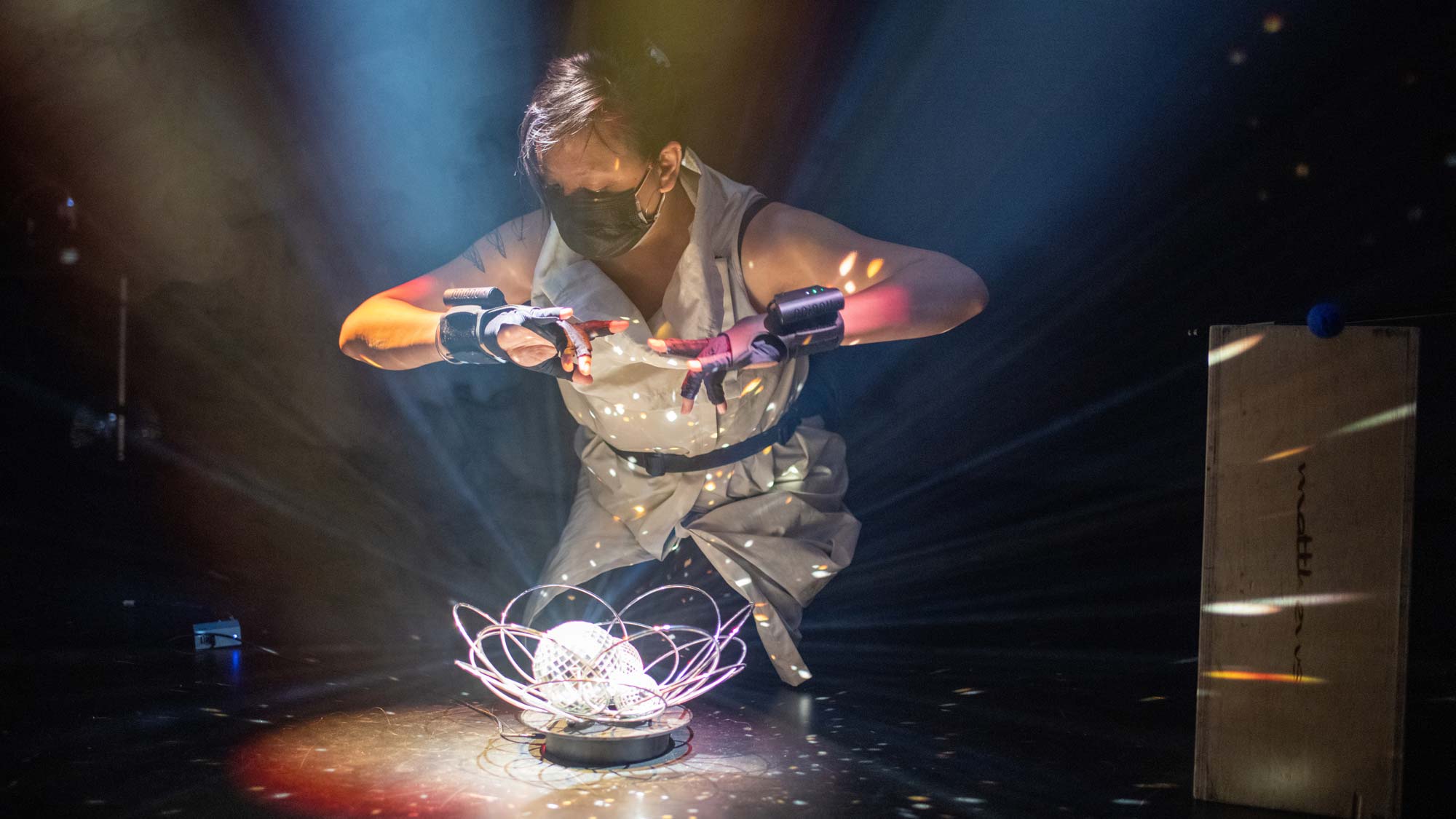 PHONO KINETIC
Bora Yoon
Saturday, March 18, 2023 at 3PM
Theater
Sound artist, composer, and performer Bora Yoon premieres her newest work PHONO KINETIC (formerly SPKR SPRKL) for spatial audio, interactive projections, and gestural, digital, and acoustic instruments. PHONO KINETIC is a one-woman performance and z-space poem tracing the journey of a carbon atom, articulating the many cycles, scales and recombinant alchemical forms life takes; a contemplation of time, within sonic and spatial environments and dreams visualized in an enveloping theatrical landscape.
As a multi-instrumentalist and established electronic musician, Yoon performs signature soundscapes, made up of spoken stories, hauntingly beautiful soprano vocals, synthesized music, found sounds, and unusual acoustic instruments. In PHONO KINETIC, Yoon gestures using superDraw, a custom software instrument created by visualist Joshue Ott, paired with the hardware of Imogen Heap's Mi.Mu gloves. A powerful tool, superDraw responds to Yoon's on-stage movements, establishing graphic digital and architectural set design and dramatic visuals in real time, animating Yoon's temporal, sonic, and spatial compositions.
With various configurations of holographic, multi-channel audio utilizing EMPAC's Wave Field Synthesis Array, PHONO KINETIC conjures worlds of sound through auditory dream language, shadows, and kinetic manipulation. Multimedia theatrical director Ashley Tata directs this part-electronic concert, part-sound-object theater event. Yoon premiered an excerpt of this new work, titled SPKR SPRKL at TIME:SPANS contemporary music festival in NYC, August 2021, where EMPAC presented newly commissioned musical works for the Wave Field Synthesis Array in a series of concerts.
Dates + Tickets
PHONO KINETIC
Bora Yoon
$20 / $15 / RPI Students: in advance $6, same day FREE
COVID-19 Policy⁣
⁣⁣
When events require everyone to wear a mask in the venue, masks will be available on entry.⁣
Season
Production Credits
Visuals and Interaction Design, Joshue Ott, Interval Studios, Brooklyn 
Director, Ashley Tata
Lighting Designer, Masha Tsimring
Production Stage Manager, Julian Singer-Corbin
Production Manager, Annie March