Image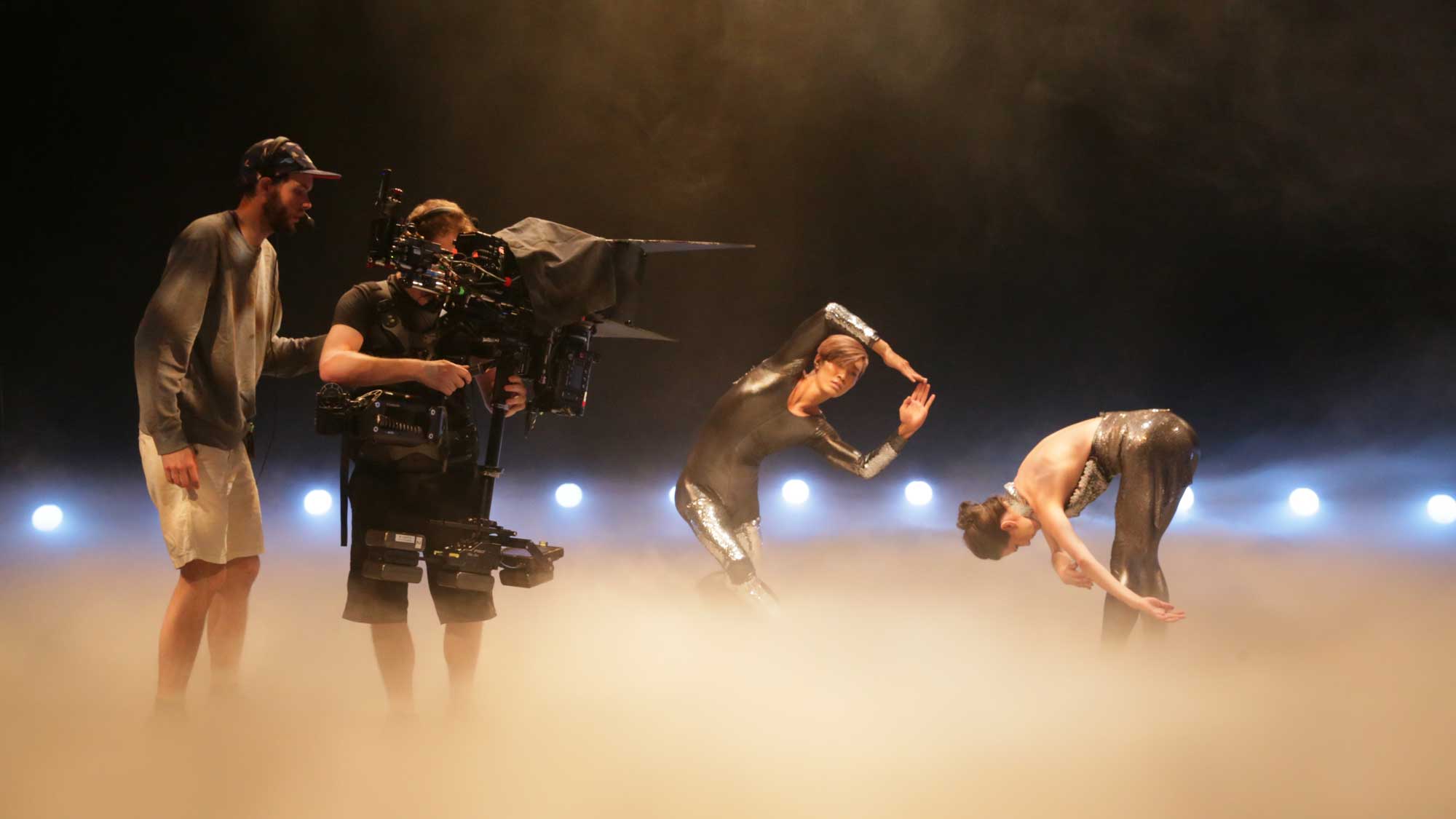 2017
Life of a Commission
Life of a Commission
Rensselaer Alumni Magazine
As spring works its way to summer, we are re-sharing and highlighting some of what goes on behind-the-scenes at EMPAC with you. You may also visit the commissions page to see whats coming up in the future.
---
More than a performing arts center, EMPAC is a busy project incubator for artworks traveling far beyond the Rensselaer campus; through the commissioning of new projects that go on to travel the international festival circuit, the center has become a major force in the world of experimental media.
When Laurie Anderson first screened her film Heart of a Dog at the Curtis R. Priem Experimental Media and Performing Arts Center (EMPAC) in December 2014, it didn't yet have a soundtrack—or even a title. Billed as New Film (a personal essay), the screening offered the Rensselaer community the first glimpse of a work in progress that would go on to premiere at the Telluride Film Festival in September 2015 and garner a host of international awards, including nominations for Best Documentary at the Chicago International Film Festival, Adelaide Film Festival, Venice Film Festival, International Cinephile Society Awards, Village Voice Film Poll, and a shortlist mention at the Academy Awards.
The EMPAC screening marked the culmination of Anderson's tenure as Distinguished Artist-in-Residence between 2012 and 2014, during which time she worked at EMPAC on a number of projects in various states of gestation. In addition to Heart of a Dog, which was first commissioned as a 40-minute segment for French-German Arte TV, Anderson used her residency to develop The Gray Rabbit, a film installation that showed in Rio de Janeiro and Sao Paulo, and Landfall, a musical composition that the Kronos Quartet toured internationally during 2014-15. For Heart of a Dog, Anderson worked with the EMPAC video team in Studio 1 to film a partially animated sequence recalling an encounter between a goose and her rat terrier Lolabelle, the film's canine protagonist. Watch closely and you can see the distinctive interior of EMPAC's black-box theater in the sequence. Stay for the credits and you'll see the thank you Anderson dedicates to Rensselaer for help on the project.
Such is the nature of many projects commissioned by EMPAC, developed in the artist residency program either in part or in full, and then birthed into the film, music, and performing arts world. To fully understand the EMPAC program and its distinguished status in the international media art milieu, you have to look beyond the center's seasonal calendar of events—which often features work in progress presentations and artist talks built around developing projects, alongside a roster of one-off shows—and into the flight pattern of projects that continue to evolve, and gain exposure and acclaim, when they leave the production environment at EMPAC and tour on the international festival and performance circuit.
---
AT FIRST GLANCE, EMPAC is a performing arts center—it's in the name after all—but it might be better to think of the center's artistic program first as a project incubator or media-arts laboratory. From its inception, the EMPAC program has focused on commissioning new projects at the intersection of art, science, and technology, developing many of those projects within an artist residency program. EMPAC's staff of curators—one each for music, theater and dance, and time-based visual arts—invite international experts in their fields to create work that would be impossible elsewhere. In most cases, the project begins with a content-based idea on the part of the artist, which the EMPAC team works to realize within the center's unique infrastructure. In some cases, these tools and technologies spur the initial project idea.
Often, the commissioned work is completed and presented at EMPAC, while in the case of co-commissioned productions—collaborative ventures with other institutions—the project may be created in part at EMPAC but presented elsewhere. And depending on the media with which the artist is working, the end result of this commission can take many shapes: a performance that travels in the performer's repertoire, a film that screens according to licensing and distribution arrangements, a recording released by a record label, or any number of other possibilities. There's no set formula for how a commission must take shape, which creates an organic working environment to yield truly creative ideas.
"EMPAC's commissioning of new works is the envy of many universities' arts departments and performing arts centers," says EMPAC director Johannes Goebel. "No other university has created this kind of impact through such an incredibly wide scope of work, ranging from diverse musical styles to experimental film productions, from theater and dance to time-based visual arts."
The Wooster Group's There is Still Time..Brother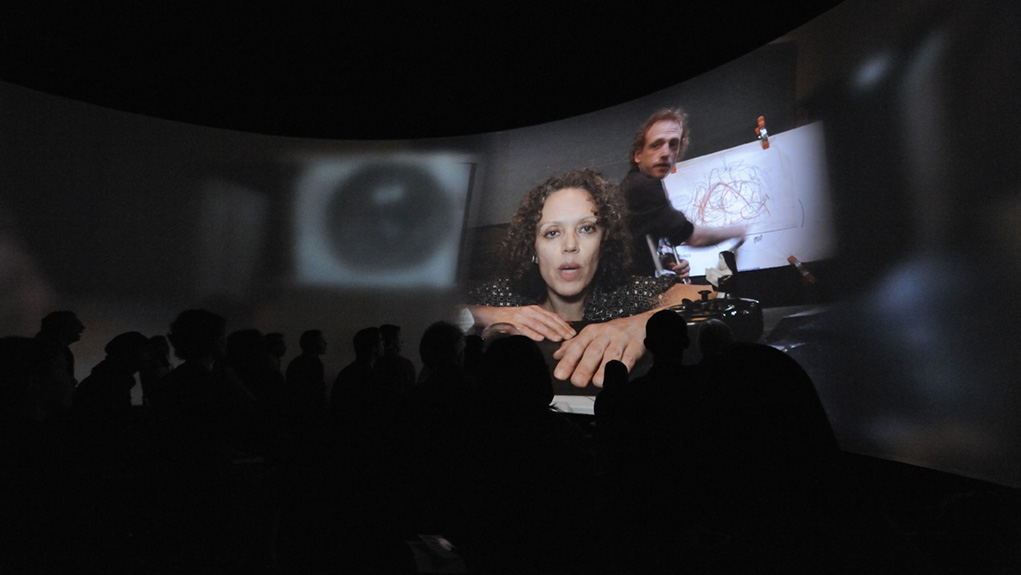 PHOTO: EMPAC
EMPAC's very first project, There Is Still Time..Brother, began as a proposal by Goebel to the New York City-based experimental theater company the Wooster Group to develop a new interactive film for the yet-to-be-constructed 360-degree panoramic screen, which was to become one of EMPAC's prominent features. In this case, a technological set-up and a dramaturgical concept was used to initiate a new work.
Over four years (starting in 2003, before EMPAC opened), the project evolved through a high level of collaboration between EMPAC, the Wooster Group, the iCinema Centre for Interactive Cinema Research at the Australian University of New South Wales, and the ZKM | Institute for Visual Media in Germany, before its hometown presentation at EMPAC's Opening Festival in September 2008. The final product was an interactive film where the audience sits within the circular screen and one member controls the visual and sonic focus (that is, the narrative) depending on what part of the screen they face.
For the campus and local audience, that seems like the end of the story. In fact, it's just the beginning. Upon completion, There Is Still Time..Brother went on to tour the world, first to Germany at ZKM for the PanoramaFestival, then to the Portland Institute for Contemporary Art in Oregon for the Time-Based Art Festival, then to the Run Run Shaw Creative Media Centre in Hong Kong for the Grand Opening Festival, then to Sao Paulo, Brazil, for SESC Pompeia, and, most recently, to Shanghai, China, at the Chronus Art Center. In its travels, the project has been central to both artistic and technical conversations regarding immersive media technologies.
On campus, the development of content for the 360-degree screen was a driving force behind initialization of the Rensselaer Collaborative-Research Augmented Immersive Virtual Environment (CRAIVE) Lab, and showed early promise for the types of projects currently being undertaken by the Cognitive and Immersive Systems Laboratory, a joint research project between Rensselaer and IBM.
Every year, as new residential projects begin to germinate in EMPAC's production spaces, more completed commissions cycle through the inter-national art scene, spreading Rensselaer's growing reputation as a hotbed for experimental media, and attracting further interest from those artists who understand that EMPAC is one of the few international venues that will not only consider but also help develop and execute their more ambitious ideas.
"Even before the EMPAC building opened, the commissioning of the Dance Movies series from artists in North and South America made a major imprint in the genre of 'dance for the camera' and announced EMPAC as a major new force in experimental media and performing arts," Goebel says.
Lucy Raven's Tales of Love and Fear
Lucy Raven's Tales of Love and Fear, which explores 3D imagery, showed at Manhattan's Park Avenue Armory. PHOTO: PAULA LOBO.
Last fall, artist Lucy Raven's Tales of Love and Fear, which was covered in Artforum upon its premiere at EMPAC in 2015, showed at Manhattan's Park Avenue Armory, a major forum for large-scale time-based artworks. Part film, part kinetic sculpture, Tales of Love and Fear is a cinema built for a single stereoscopic image, which is split by two projectors—on a rig custom-built by EMPAC engineers—and slowly reconfigured into its full 3D form over the course of the piece's duration. Since the piece uses the architectural space of the performance as its projection surface, every new venue will affect the viewing experience differently and guide the project's evolution over time. A book documenting the project is currently in the works, produced in-house at EMPAC by curator Victoria Brooks and graphic designer Eileen Baumgartner.
Publications—books, recordings, films—are another outgrowth of this commissioning process. Since EMPAC deals exclusively in "time-based" artworks, that is, projects that must be experienced as an event or in the space of performance (as opposed to a static gallery exhibition), the creation of publications is an important way of documenting commissioned projects and circulating these ideas beyond the touring cycle of the performances.
Rosa Barba's The Color Out of Space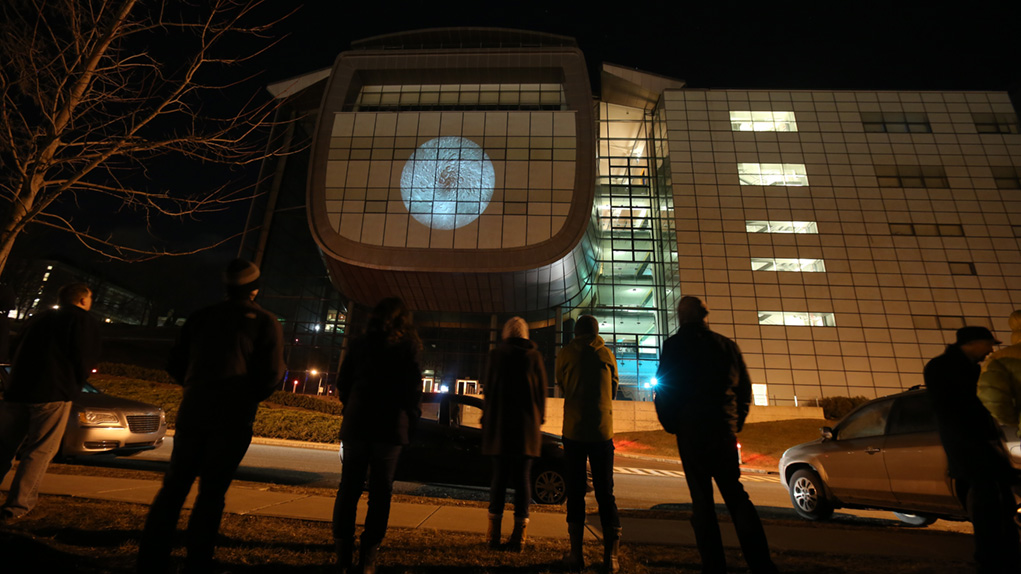 PHOTO: KRIS QUA.
The Color Out of Space is the title of one such book published this fall in collaboration with MIT's List Visual Arts Center. The book documents an EMPAC-commissioned project undertaken by Italian artist Rosa Barba in 2014–15. Working with Rensselaer's Hirsch Observatory, Heidi Newberg (professor of physics, applied physics, and astronomy), and undergraduate students, Barba used images of celestial bodies taken through the observatory telescope to create a meditative science-fiction film, projected in March 2015 on the west façade of the EMPAC building. Later that year, the film figured as the centerpiece of a retrospective of Barba's work at MIT's List Visual Arts Center.
Musical commissions can also take a variety of forms. If you see a musician on EMPAC's performance calendar, it's likely that they are also working in residence, either on a new performance or a recording project. In the past few years, EMPAC has commissioned new recordings, either complete album-length works or select compositions from musicians as diverse as Ben Frost, Michael Gordon, Amirtha Kidambi, Laurel Halo, Tristan Perich, Nate Wooley, Longleash, and many more, spanning the genres of contemporary classical, jazz, and electronic music.
Oneohtrix Point Never
Oneohtrix Point Never's lighting design study in Studio 1 for his world tour of Garden of Delete. PHOTO: EILEEN BAUMGARTNER.
A unique approach was taken in fall 2015 by popular electronic musician Oneohtrix Point Never (aka Daniel Lopatin). In advance of the release of his album Garden of Delete on the British record label Warp, Lopatin undertook a week of residency in EMPAC Studio 1 to craft the stage show (including lighting design and projections) for his upcoming world tour. Studio 1 served as a model club atmosphere to test strobe effects, color washes, and integrated video. His subsequent performance in front of a Rensselaer crowd served as both a test run for the tour and unofficial premiere of one of the year's most internationally celebrated musical acts.
Electronic composer Tim Hecker took a similar approach that season, working with the lighting designer MFO. The duo used their EMPAC residency and performance to experiment with extreme haze effects in Studio 1, which all but obscured the performer while enveloping the audience in a seemingly infinite cloud that crackled and glowed when struck with LED lights. The effect is now a standard part of Hecker's touring show.
Tom Kubli Black Hole Horizon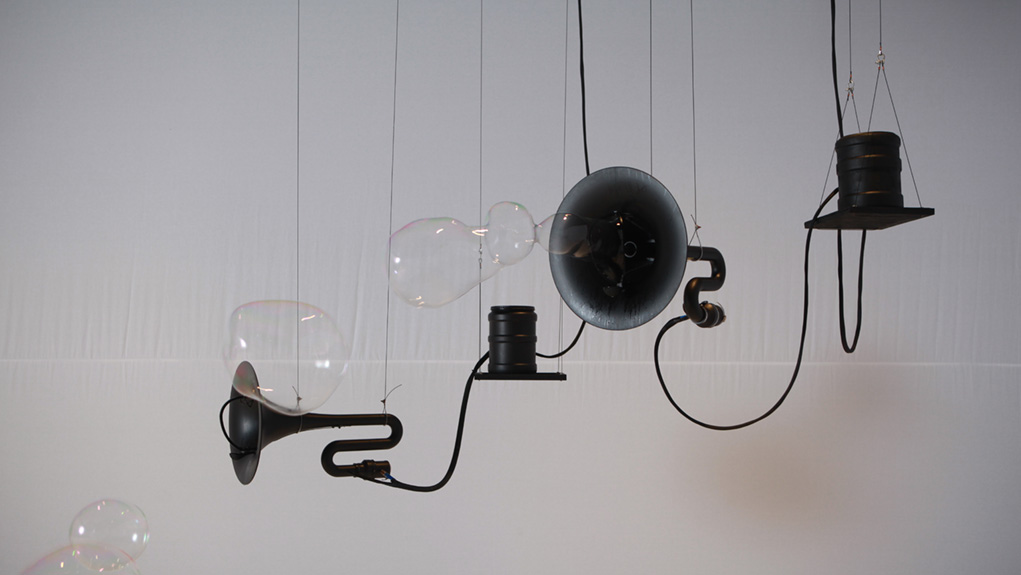 For German artist Thom Kubli's project Black Hole Horizon, he and the EMPAC team built a series of horns that transform sound into three-dimensional objects by producing giant soap bubbles from the compressed air. PHOTO: KRIS QUA.
In many cases, it isn't until a commissioned work finds its audience in a festival environment that the wider conversation begins. German artist Thom Kubli's project Black Hole Horizon began in 2012 with a series of questions: "What kind of relationship exists between oscillating air, black holes, and soap bubbles? What effect does the sound of horns have on the human psyche and why is it present in different creation myths? What impact does gravity have on our collective consciousness? Where do spectacle and contemplation meet?"
To address these questions, Kubli and the EMPAC team, including then-School of Architecture student and acoustics expert Zackery Belanger '12, built a series of horns that transform sound into three-dimensional objects by producing giant soap bubbles from the compressed air. Last fall, the project was a featured exhibition at the Ars Electronica Festival in Linz, Austria.
Lars Jan's Holoscenes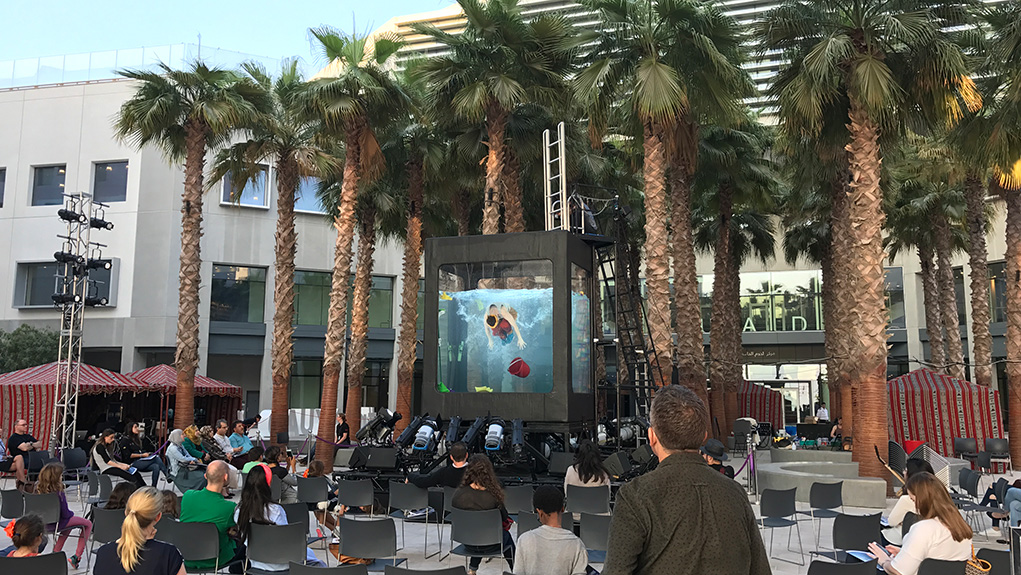 Holoscenes in Abu Dhabi, 2016. Photo: Lars Jan
Similarly, Lars Jan's 2014 EMPAC commission, Holoscenes, has entered into an international conversation surrounding the effects of global warming as the project tours international festivals such as Art Basel Miami and London's Burning. A co-commission with the Yerba Buena Center for the Arts, San Francisco, and the John and Mable Ringling Museum of Art, Sarasota, the project was developed at EMPAC and the Center for the Art of Performance at UCLA. As The Guardian reported, in the wake of the project's arrival at London's city-wide art festival, Jan initialized the idea with a simple image: "A man is turning the pages of a newspaper and slowly the room fills with water."
At EMPAC, Jan and the production team were able to make this image a performance. The centerpiece of Holoscenes is a large aquarium, which fills and drains as performers struggle to complete a variety of everyday behaviors. The act of shaving, making tea, washing dishes, writing, running, and flying a kite becomes radically altered as hundreds of gallons of water rush into the cubic glass tank, which weighs a staggering 30,000 pounds when full. A major outdoor attraction at art festivals, Holoscenes is equally impressive as a feat of engineering as it is a striking visual spectacle.
The extensive plumbing and electrical work required of the project fell in large part to EMPAC's lead stage technician, Eric Lin, who continues to travel with the project as it is shown all over the world. This is an uncommon arrangement for an EMPAC commission, as most projects leave EMPAC's hands when they leave the building. But in this case, the project would not be replicable without the specialized knowledge born of the project's development phase. Before installing the piece at London's Burning last fall, Lin toured with the project to Toronto, Sarasota, Miami, and Abu Dhabi.
"The further one moves away from our campus, the more amazement and acknowledgement is expressed by what the 'oldest technological university in the U.S.' has created with EMPAC at the intersection of art and technology," Goebel says.
---
AS REWARDING AS IT IS to see an EMPAC-commissioned project ripple across the globe, arguably the most exciting part of the process is what happens here on campus. In January, dance-film pioneer Charles Atlas, who rose to fame as videographer for the acclaimed Merce Cunningham Dance Company, premiered Tesseract, an EMPAC-commissioned project that has been in development for the past three years. The completed work is the first-ever synthesis of live dance performance with 3D projections.
Tesseract
PHOTO: RAY FELIX.
While Atlas and his choreographic collaborators Rashaun Mitchell and Silas Riener worked on the six-part project, filming the 3D segments in EMPAC's Theater and Studio 1, using green-screen technologies and outrageous stage designs, the Rensselaer community had intimate access to the work in progress through a series of talks, screenings, and class visits to the film shoot.
In April 2015, Atlas introduced some initial ideas for the project and contextualized it within a larger discussion of his work. In March 2016, a segment of the developing project—What Does Unstable Time Even Mean?—was screened as part of EMPAC's On Screen/Sound film series. Then last fall, Atlas offered another look at his methods by screening a number of films that have been influential to the project, including the sci-fi horror movie Cube2: Hypercube.
A co-commission with the Walker Art Center in Minneapolis, Tesseract is already slated to tour the country after its premiere at EMPAC, with stops at the Museum of Contemporary Art in Chicago, On the Boards in Seattle, and the Brooklyn Academy of Music.
But, as with Laurie Anderson's Heart of a Dog and any number of other EMPAC commissions, as it travels, the project will carry with it the indelible Rensselaer stamp.