Image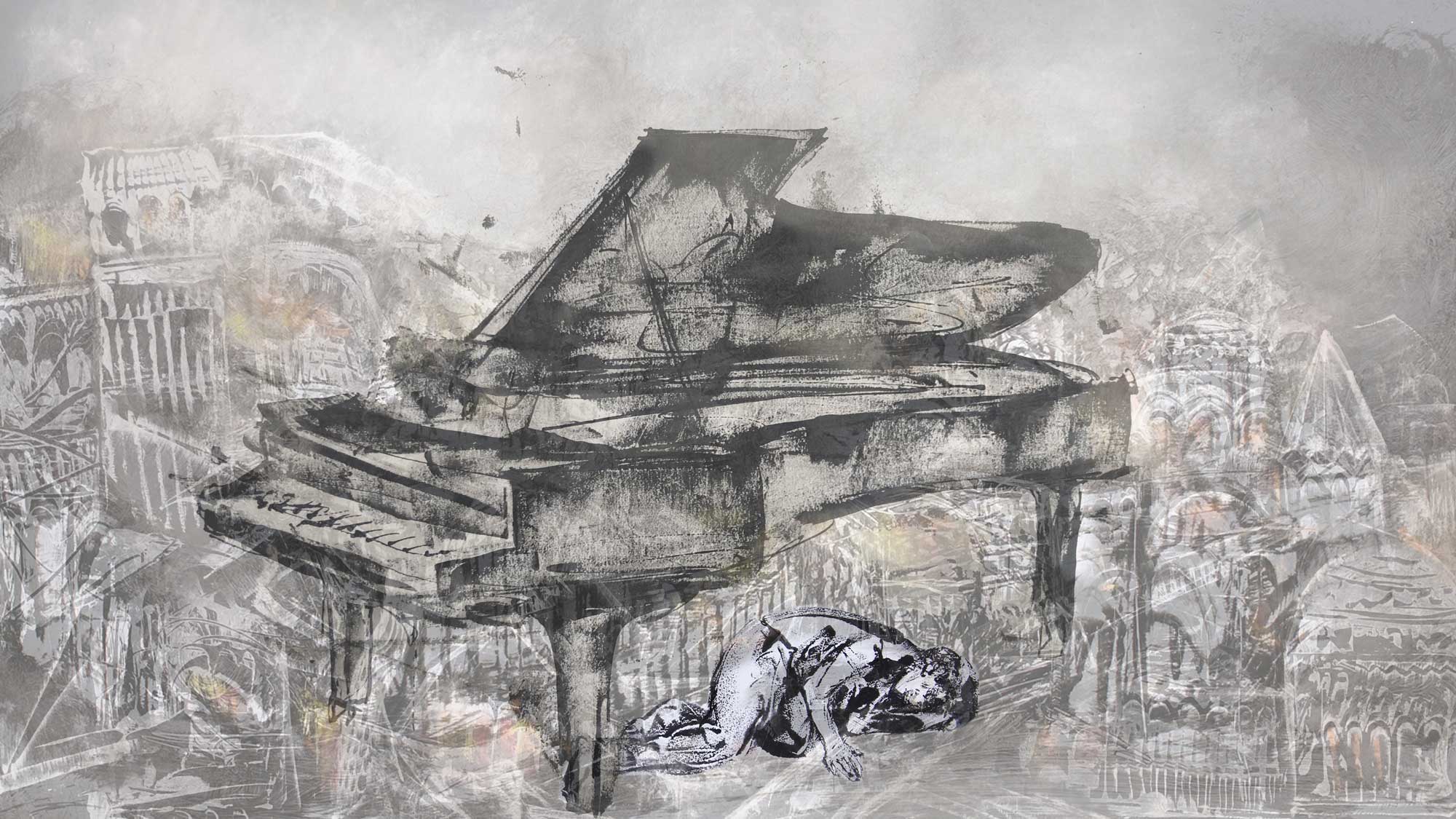 Paper Pianos
Mary Kouyoumdjian and Nigel Maister with Alarm Will Sound and Kevork Mourad
2020-23
EMPAC — Troy, NY, USA
Due to COVID, production residencies and premiere were postponed to 2022/23
Paper Pianos​ is an evening-length theatrical work co-directed by Armenian-American composer Mary Kouyoumdjian, and South African-American director Nigel Maister. Performed by contemporary ensemble Alarm Will Sound, the work explores the dislocation, longing, and optimism of refugees. Combining the spoken narratives of four refugees and resettlement workers with the intricate hand-drawn animations of Syrian visual artist Kevork Mourad, Paper Pianos vividly depicts the dramatic emotional landscape of displacement and resettlement experienced by refugees throughout the world.
During a time when the media is saturated with sensationalist news images surrounding the refugee crisis, this piece instead highlights four human voices: the Afghan pianist Milad Yousufi, Getachew Bashir (Ethiopia), Hani Ali (Somalia), and Akil Aljaysh (Iraq); creating a space for the audience to experience empathy. Milad Yousufi fled to New York from Kabul, where he lived under the Taliban's threat for pursuing music. His story of painting piano keys on paper to teach himself to play in silence, thus avoiding life-threatening censure from the authorities, gives the piece its name. Getachew Bashir, a high-ranking judge in Ethiopia, left his country when the judiciary and his independence threatened to become co-opted by the regime. Hani Ali was a child of the refugee experience, born on the run and coming of age as a young girl negotiating the terrors of being stateless in a displacement camp. Akil Aljaysh—from a prominent family—fled Iraq after being tortured, and worked his way through Syria and Lebanon to the US.
Kouyoumdjian's score uses these recorded testimonies as integral compositional elements, and draws on folk-music and contemporary-music practices. She says: "I come from refugee parents forced to immigrate to the U.S. as a consequence of the Lebanese Civil War. And my parents come from refugee parents forced to escape to Lebanon from Turkey during the Armenian genocide of 1915. Experiences like Milad Yousufi's resonate with me, and topics of wartime, genocide, and one's relationship to 'home' have played a large role in my music." Kevork Mourad's extraordinary hand drawings animate the narrative, evoke the journeys of the participants, and serve as a physical element with which Alarm Will Sound's musicians interact.
EMPAC has commissioned Alarm Will Sound's staged performance of Paper Pianos and will provide the artists with multiple production residencies to develop the visual and theatrical elements. The work will premiere here at EMPAC in our 400-seat proscenium theater—a venue that incorporates theatrical technology and capabilities previously found only in the most advanced stage spectacles. As quiet as a recording studio with the infrastructure of an HD video studio, the low stage and superb acoustics allows for tangible proximity between audience and performers.
Paper Pianos​ is a vivid, compelling and evocative contemplation of global issues expressed through individual stories of loss and transcendence. The live performance of narrative, music, theatricality and visual gesture engages audiences viscerally in one of the pressing problems of today's world, distilled down to the heartfelt immediacy of real-life experience.
Season
Production Credits
Mary Kouyoumdjian, Co-creator/Composer
Nigel Maister, Co-creator/Director
Kevork Mourad, Drawing/Animation
Afsoon Pajourfar, Set Design
Reza Behjat, Lighting Design