Image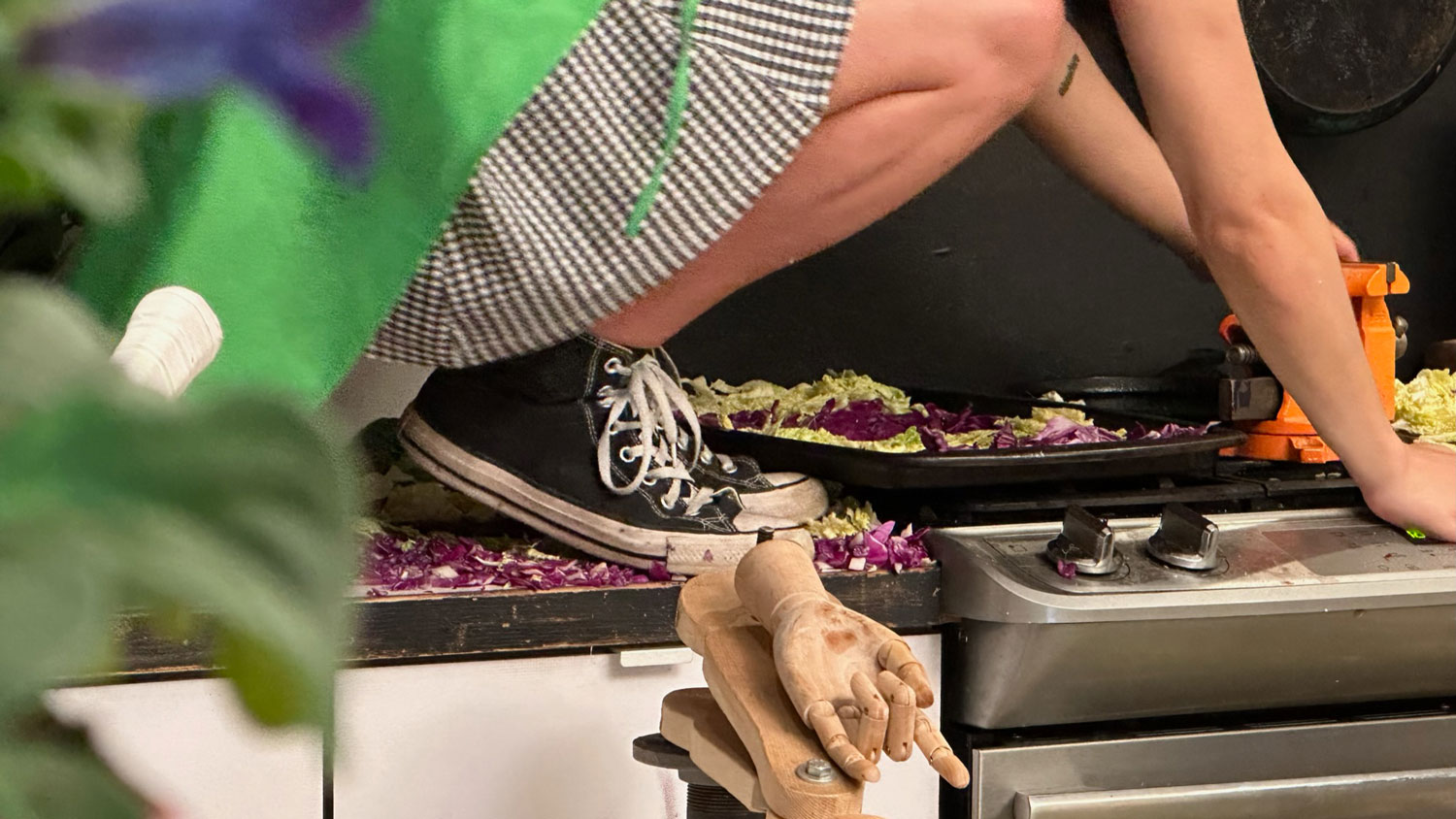 2023
EMPAC Announces its 2023 Fall Season
EMPAC Announces its 2023 Fall Season
Celebrating 15 years at the center for arts and technology
Troy, NY: EMPAC / Curtis R. Priem Experimental Media and Performing Arts Center at Rensselaer Polytechnic Institute–renowned for commissioning artists in residence to produce ambitious works that bridge the gap between artistic disciplines, and between art and technology–announces their fall 2023 season.
From September through December, the curatorial team and artists in residence premiere programs that include a site-wide exhibition of time-based visual art, as well as multimedia concerts, dance performances, film screenings, artist talks, and more.
This year, EMPAC's signature 220,000-square foot building, which foregrounds creative experimentation by giving artists access to some of the most sophisticated technologies in the field, celebrates its 15-year anniversary. Although EMPAC's curatorial program pre-dates the building's historic opening in 2008, this is the fifteenth year that artists, researchers, and audiences have come together under one roof to explore the boundaries of art, science, and technology.
In addition, for the first time in over a decade, EMPAC turns its concert hall, stages, and studios into a series of exhibition spaces for Shifting Center (October 2023). Finally, EMPAC announces the appointment of Katherine C.M. Adams as assistant curator.
Salon Mondialité (September 22) is vocalist and electronic musician Miho Hatori's exploration of memory, identity, and colonization inspired by the work of philosopher Edouard Glissant. Presented as an experimental talk-show, the work substitutes segments with sound stories, combining composed and improvised music with guest performances against the backdrop of a video installation. Hatori is a Japanese-born and New York City-based musician who gained popularity in the 1990s with the band Cibo Matto. Most recently, she released her album Between Isekai and Slice of Life and has recorded music under the pseudonyms New Optimism and Miss Information, and contributed to the first Gorillaz album and songs with the Beastie Boys. She has performed at Kitchen NYC, AGO museum, The Broad, Philadelphia Museum of Art, Cleveland Museum of Art, Pioneer Works, Canal 47, and other venues.
Moving away from Large Language Models (LLMs) towards what the artist calls "Small Barbie Models (SMBs)," Evidence of Labor: State of the Kitchen (September 29) is an EMPAC-commissioned dance work by artists Michelle Ellsworth and Satchel Spencer that considers different forms of labor. The work features three dancers on stage interacting with two sets of wooden kitchens and an original Generative Adversarial Network (GAN) based on choreographic and performance habits. It attempts to duplicate ChatGPT's labor–to better understand the ethics involved in outsourcing the act of writing and meaning-making–and functions as a Reverse Turing Test, a prototype for life After-AI (AA), and a birth canal. Inspired by a water slide accident in the 80s involving two boys, the work focuses on what T.S. Elliot described as "birth and copulation and death." It goes on to premiere at the Chocolate Factory in Long Island City in November.
Elemental View (October 24) is a work in six movements by pioneering composer Ellen Fullman for her Long String Instrument and The Living Earth Show. The immense instrument installation, with its precisely tuned and configured 136 strings, takes full advantage of EMPAC's Concert Hall acoustics, filling the space with its glistening atmosphere and giving the audience the experience of bathing in the sound of the instrument's immersive and expansive resonance. This performance continues The Living Earth Show's multi-season residency at EMPAC. TLES is an electroacoustic duo who pushes the boundaries of technical and artistic possibility while amplifying voices, perspectives, and bodies that the classical music tradition has often excluded. The organization uses the tools of experimental and contemporary chamber music to foreground BIPOC and LGBTQ+ artists, facilitating the creation of their most ambitious musical visions and creating work that reflects and responds to our world.
The Shifting Center exhibition (offsite October 27–29 and onsite November 3–18) is the culmination of EMPAC's ambitious, multi-year curatorial project on architecture, acoustics, and the politics of sound in museums that opens to the public this Fall. For the first time in a decade, EMPAC's concert halls, stages, and studios—which are tuned for acoustically-differentiated experiences of sounding and listening—are converted into a series of exhibition spaces where existing and newly commissioned works of sculpture, moving-image, and sound are presented throughout and beyond its walls. Artists include Tania Candiani, Padmini Chettur and Maarten Visser, Beatriz Cortez, Guillermo Escalón and Igor de Gandarias, Hugo Esquinca, Maurice Louca, Cannupa Hanska Luger, Micah Silver, and Clarissa Tossin among others.
The exhibition begins with the journey of monumental sculpture Ilopango, the Volcano that Left (October 27–29) by artist Beatriz Cortez up the Hudson River to EMPAC on an open-air boat against the backdrop of late October foliage. The volcano sculpture sets sail at the end of Cortez's exhibition at Storm King Art Center and makes stops along the Hudson in Kingston and Troy, where visitors are able to get on board to view the artwork, to arrive at EMPAC before Shifting Center's opening day event (November 3). Cortez's sculpture, presented in partnership with Storm King and the Vera List Center for Art and Politics at The New School, draws our attention to the still continuing geological and ecological effects of a past eruption. Cortez describes "the volcano that left" as an act of migration and considers what it would mean for it to return.
EMPAC's fall season also includes public tours, screenings, and conversations with future artists in residence, including composers/performers Jesse Marino and Antonia McIntosh-Barnett; choreographer Alexis Blake; and artist and preeminent scholar on disability studies Petra Kuppers. The season closes with a film screening In Pursuit: Short Films curated by EMPAC's newly appointed assistant curator Katherine Adams. The series of short films centers on forms of furtive mobility–chase, exilic evasion, urgent travel, and outlawed movement–such as Miko Revereza's Distancing (2019).
Ticketing and event info will be available in August. More details and event info for the Shifting Center exhibition to be released in summer 2023.
EMPAC announces that Katherine C.M. Adams has been appointed to the role of assistant curator. Adams is a curator and writer working with artists across moving image, performance, and the visual arts to realize projects spanning commissions, exhibitions, and event-based programs. Prior to joining EMPAC she worked as an independent curator and writer alongside graduate studies at the Center for Curatorial Studies, Bard College, and holds a bachelor's degree in philosophy from Yale University. She has curated programs and events at the KW Institute for Contemporary Art (Berlin), Hessel Museum of Art (New York), Miriam Gallery (New York), and other venues.
At EMPAC, Katherine Adams will lead and support curatorial projects across the time-based arts. She is supporting the curatorial team of Shifting Center. Forthcoming projects include a collaboration with filmmaker Shen Xin in Spring 2024, a screening of work by Miko Revereza, and an open conversation with choreographer Alexis Blake. Adams will also initiate talks, screenings, podcasts, and publications, and build out other aspects of EMPAC's programming.
Curators:
Special Thanks: EMPAC 2023 Fall is made possible by Rensselaer Polytechnic Institute. Project support provided by Flanders Department of Culture, Youth, and Media; and New York State Council on the Arts with the support of the Governor and the New York State Legislature. Additional project support for Shifting Center provided by Teiger Foundation; The Andy Warhol Foundation for the Visual Arts; Science Sandbox, an initiative of the Simon's Foundation; and National Endowment for the Arts. Additional program support for Ilopango, the Volcano that Left is provided through the artist's Borderlands Fellowship at the Vera List Center for Art and Politics at The New School and Storm King Art Center.
--
Editor's Note: The previously announced October 2023 presentation of Plasmatic Music co-presented with Blank Forms (NYC) is postponed to a date to be determined in the future. (8.17.23)